Are you coming to New York soon? It's awesome! I remember my first time, I was so happy that I will never forget the day I got off the plane and said to myself: Yeah! I'm in New York! Recently, I even discovered a hotel with a bath and a view of New York, a magical pleasure.
You should know that 3 airports serve the city of New York: JFK, Newark and La Guardia. To find out where you are going to land, take a look at your plane ticket:
JFK: JFK Airport
EWR: Newark Airport
LGA: La Guardia Airport
But what about transfers from New York airports to Manhattan? First advice, do not make the same mistake as me 10 years ago, when I landed at JFK and I left Newark … not having checked my ticket, I went to JFK for my flight back and once there was total panic. Both airports are very far away, and I almost missed my flight, what stress!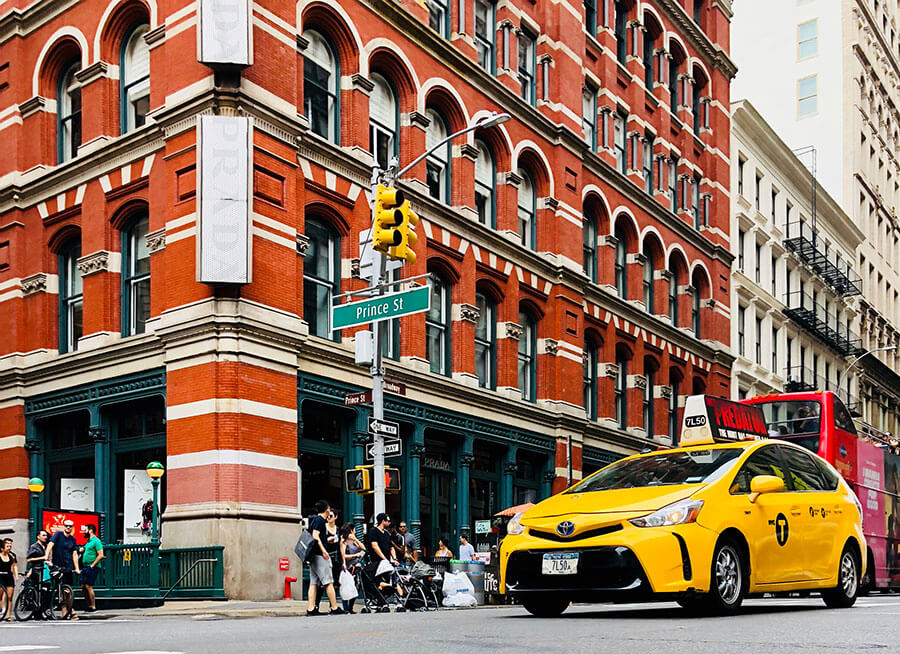 What transport from the airport to New York and vice versa?
As mentioned above, New York City has three airports, two of which are likely to land if you are traveling from outside of the US.
The furthest airport in Manhattan is J.F.K. Airport, which can take up to 90 minutes to get to Manhattan.
How to get to New York City from JFK Airport?
JFK is the furthest airport in central New York. Nevertheless, there are several ways to get to the city: Manhattan, Brooklyn, Harlem …
Also, the other way to get to Manhattan is to use for example Limo Find!
Travel from JFK to New York by yellow cab or VTC Uber or Lyft
I recommend you take this option if you are at least three people in order to share costs. If you are a family, it's also a simpler and less expensive way to get to town.
Take the bus from JFK to New York
The second way to get to downtown New York is to take a bus, which will allow you to cross Queens and sometimes even Brooklyn! On the other hand, the bus will not stop there! It departs from JFK and stops only at one of the following stations in Manhattan: Grand Central, Times Square or Port Authority.
Buses depart from all terminals from JFK. They will drop you at one of the bus stations in the city. This type of transportation can be economical if you travel alone, however, you will have to take a taxi, a metro or walk to get to your hotel or your home Airbnb in New York.
By bus to 3 travelers, you would have $ 19 per ticket and per trip (or $ 35 round trip), or nearly $ 60, to be dropped off at a bus station. In Uber or Lyft, the final destination cost can be almost the same price, so take the time to compare
From JFK to New York by subway, cheapest transportation!
If you have the time, you can take the subway which will cost you a little under $ 8 and bring you to downtown New York, the advantage here is that you will not be in traffic jams and the time of indicated route will be respected. But…
There is no direct connection between JFK Airport and Manhattan, this requires a train transfer to the Airtrain train since at JFK, then take the metro (MTA) to Jamaica Station (Queens), direction Manhattan.
The cost of the Airtrain ticket is $ 5 and the cost of the subway ticket to Manhattan is $ 2.75.
Here is the plan to help you visualize your route: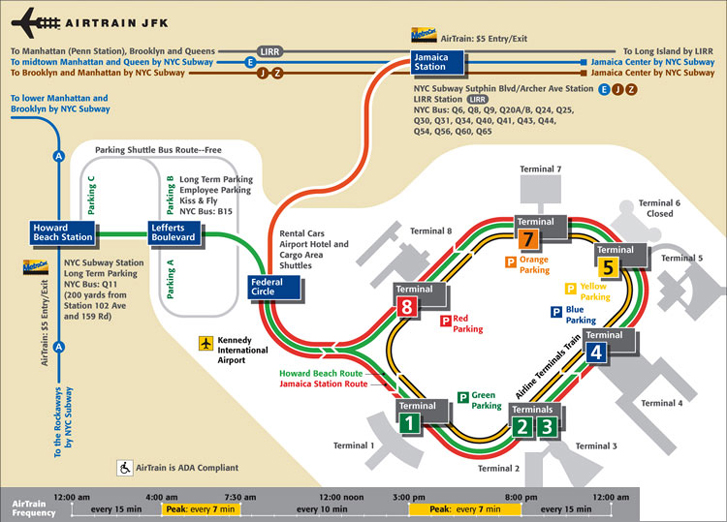 If you are traveling at least 3, buy the $ 25 Air Train Card with 10 trips. Instead of paying $ 30 round trip for 3 people, you will only pay $ 25 and there will still be trips!
I do not recommend traveling in the metro with a lot of luggage, especially at rush hour, it's a real hassle! There are many people and stairs to take.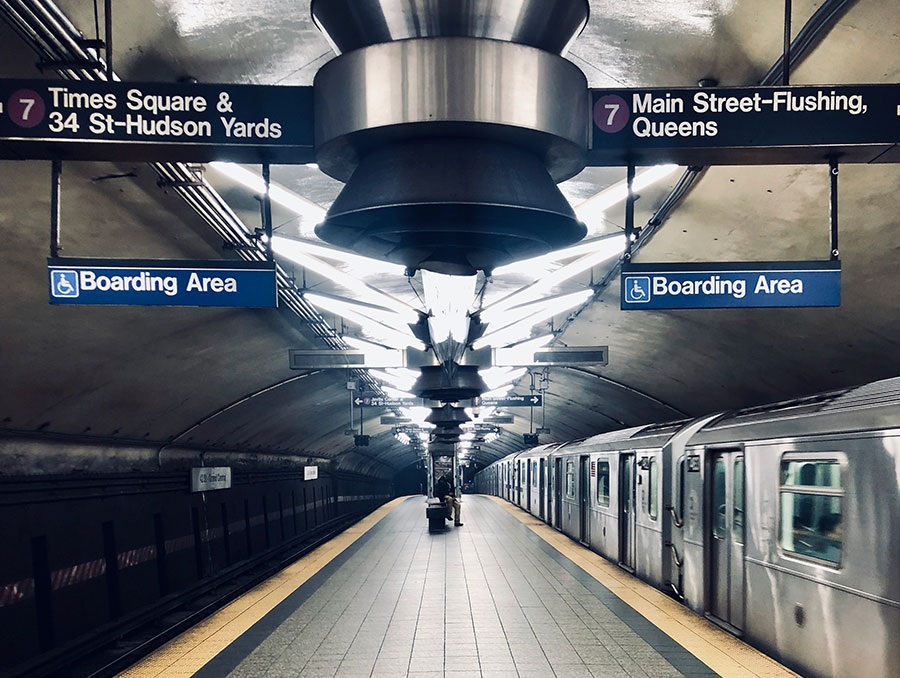 Comparison of rates and times of transfers between JFK and Manhattan
Transportation
Price
Duration
Metro/Airtrain
Via Jamaica Hub

$7.75

35-45 minutes

Metro/Airtrain
Via Sutphin Blvd.

$7

60-65 minutes via E train

Metro/Airtrain
Via Howard Beach

$7

70-80 minutes via A train

Limousine

$46 and more

65-75 minutes

Uber or Lyft
About $50
65-75 minutes
Taxi

$45 + toll and tips

65-75 minutes

Express Bus
From Port Authority or Grand Central

$15

70-85 minutes

Shuttle Van and Bus
(Shared)

$19

75-90 minutes

Helicopter
(From several heliports in Midtown)

$159$ and more

12 minutes flight
.
How to get to New York from Newark?
As for JFK Airport, you can get from Newark Airport to downtown New York by bus, subway, or taxi. This airport is less far, a taxi or Uber will cost you much less.
Newark is not located in the state of New York but in the state of New Jersey, and that does not change anything for you.
Comparative rates and times of transfers between Newark and Manhattan
Transportation
Price
Duration
Rail Method 1 
Amtrak/Airtrain

$28 and more – mix of Amtrak and Airtrain

28 minutes

Rail Method 2 
NJ Transit/Airtrain

$12.50 mix of NJ Transit and Airtrain ticket

35 minutes

Rail Method 3 
PATH/NJ Transit/Airtrain

$9 + NJ Transit/Airtrain

90 minutes

Express Bus
Penn Station, Port Authority, or Grand Central


$13

40-50 minutes

Shared Ride Van Service

$19

60-70 minutes

Uber ou Lyft
$45 and more
Taxi


$45 and more + tips

50-55 minutes

Limo


$60 and more + tips

45-50 minutes
.
How to get to New York from La Guardia?
It is the smallest airport in New York and is mainly used for domestic flights or from Canada. You can get to downtown New York by bus, subway but also taxi or VTC.
Comparative rates and times of transfers between La Guardia and Manhattan
| | | |
| --- | --- | --- |
| Transport | Price | Duration |
| Uber ou Lyft | About $30 | 50-55 minutes |
| Taxi | $25-30, $4.50 for the tips | 50-55 minutes |
| Subway/Bus combo  | $3 | 45 minutes (jour), 60 minutes (nuit) |
| Shared-ride van  | $13-15 | 50-55 minutes |
| Limo | $50$ and more | 45-55 minutes |
| Express Bus | $12 and more | 45-60 minutes |
| Helicopter | $159 and more | 10 minutes de vol |
.
Note that in all the options that I presented to you, to go back from New York airports to the city center that it is often possible to get a shuttle that will drop you directly to your hotel. For this, I invite you to contact your hotel and check the available options.
Read also ModernHaus SoHo: A luxury hotel in the heart of SoHo (New York)
How long to get to the airport from New York?
Good question! You should know that for an international flight you must go at least 2 hours before the time of takeoff at the airport, for a domestic flight in the US, this is reduced to 1 hour.
To get to JFK, plan 2 hours.
For La Guardia and Newark, plan one to 30 hours to be comfortable.
If your flight to Paris from JFK is at 14h, you must leave your hotel at 10 am to arrive 2 hours before the flight, 12h
For the craziest of you, like me, know that it is possible to travel to Manhattan from JFK and Newark by helicopter, the average rates are shown in my tables.

Remember to get a credit card at no charge from abroad to avoid paying fees for each transaction in foreign currency.

Your trip is approaching? It's time to check the options available for your transfers from New York airports to Manhattan.

//php comments_template();?>