Well let's be clear, I have never sought or had the ambition to become very muscular, but going to the gym 5 times a week, stretching is not my favorite thing, and yet it is very important in the context of muscle recovery to stretch and to do not skip cardio. But since then, I discovered the Compex Fixx Massager 1.0, and since then, everything has changed.
Ideally, you should take the time to stretch after each training session, to help your muscles recover more quickly.
Like most sports enthusiasts, I often skip this step, not because I don't have enough time but because it bothers me !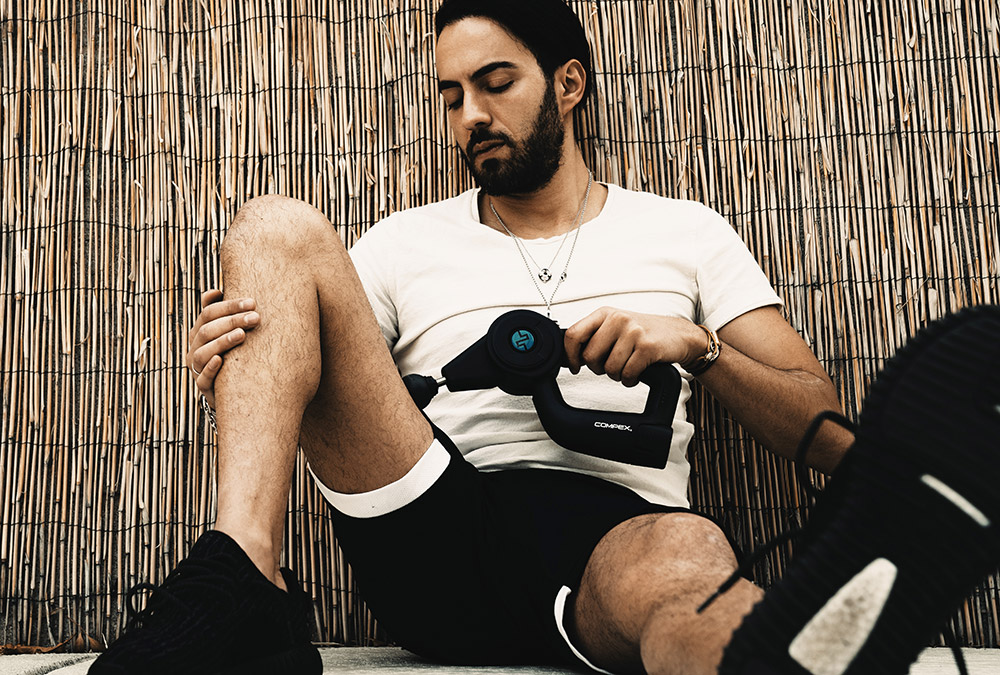 Compex Masseur 1.0: For deep muscle massage
With its 3 speeds that you can choose at your convenience, from 25 shots per second to 46, this massaging gun allows you to relax and loosen up your body's muscles after each sports session.
Personally, I sometimes use it before my sessions to warm up my muscles, it makes it easier for me to workout my calves, one of my biggest problems… like many men!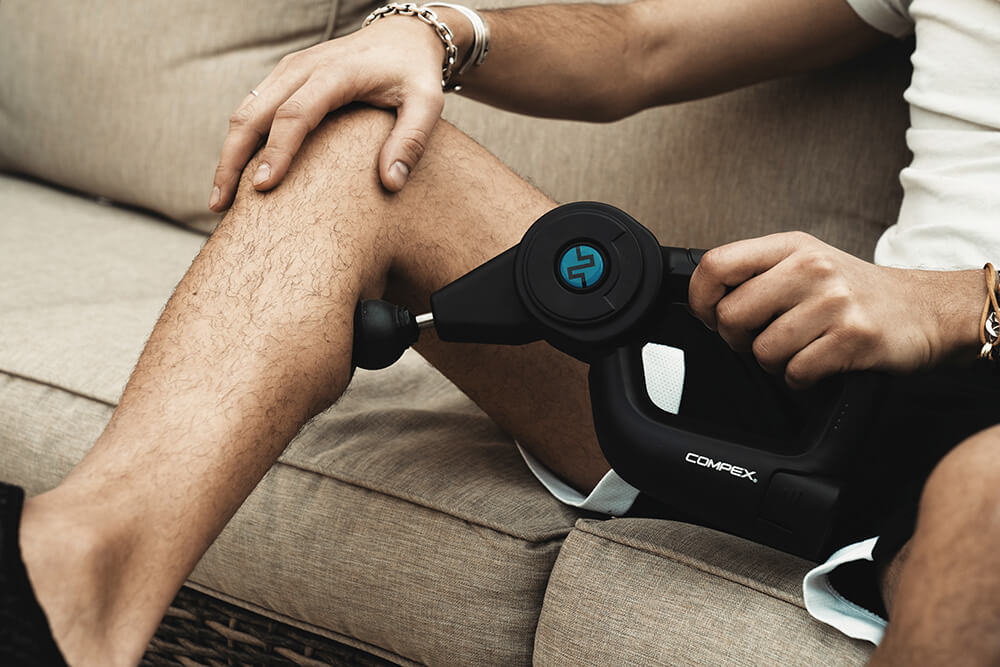 The Compex Fixx Massager 1.0 offers the following features :
A silent motor, but the head will make noise due to the number of shots per second
3 handle inclinations to adapt it to the area to be massaged
The massage heads are interchangeable (sold separately)
Lightweight and easy to carry (approx. 990G)
It offers 3 different speeds: 25, 33 and 46 strokes per second)
A battery indicator with 4 small lights to tell you when to charge it
Finally, do not drop it, like all accessories, you could damage it.
How to use this electric massager?
I have already test 2 electro-stimulation products of the brand, the Compex SP 4.0 and the Compex Fit 5.0. Whether you train indoors, outdoors or with other Compex products, this electric massager is very easy to use.
First of all, after receiving your accessory, you need to charge the battery for at least 2 hours. The battery can be removed and inserted very easily into the pistol, then :
Define the areas to relax, it's useless to massage the whole body if you've trained your legs.
Turn on the massage gun and start with the minimum intensity to relax the muscles in the area of your choice.
Increase the intensity according to your needs in order to completely relax the targeted muscles.
Do not exceed one minute of massage per muscle area, I personally massage each area for about 45 seconds.
Avoid areas of bone that lack muscle mass.
After a few uses, I hardly felt any aches and pains after my sports sessions, especially in my legs or generally it pulls for 2 to 3 days.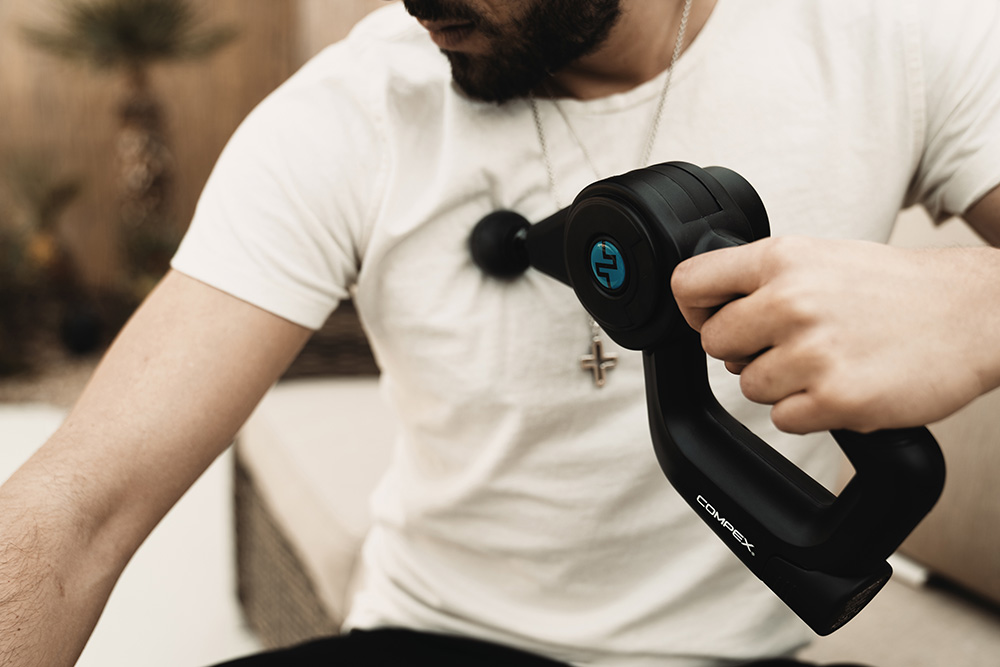 Precautions to be taken before use
This accessory is safe, except in certain cases where you should not use it on your body without the advice of your doctor:
If you have recently got a surgery
You have skin conditions or unhealed wounds
You have a herniated disc, diabetes, neuropathy or retinal damage
Have a pacemaker
Finally, if you have ever been injured by vibrating guns, you should not use it.
Buy Compex Fixx Massager 1.0
If I recommend it to you, it's because this accessory has changed a lot for me, I've almost said goodbye to aches and pains.
It is sold out of promotion at the price of $299 and is guaranteed for 2 years. To buy it, it's very simple, use the button below :
Buy Compex Fixx 1.0 Massage Gun on AmazonClick here now !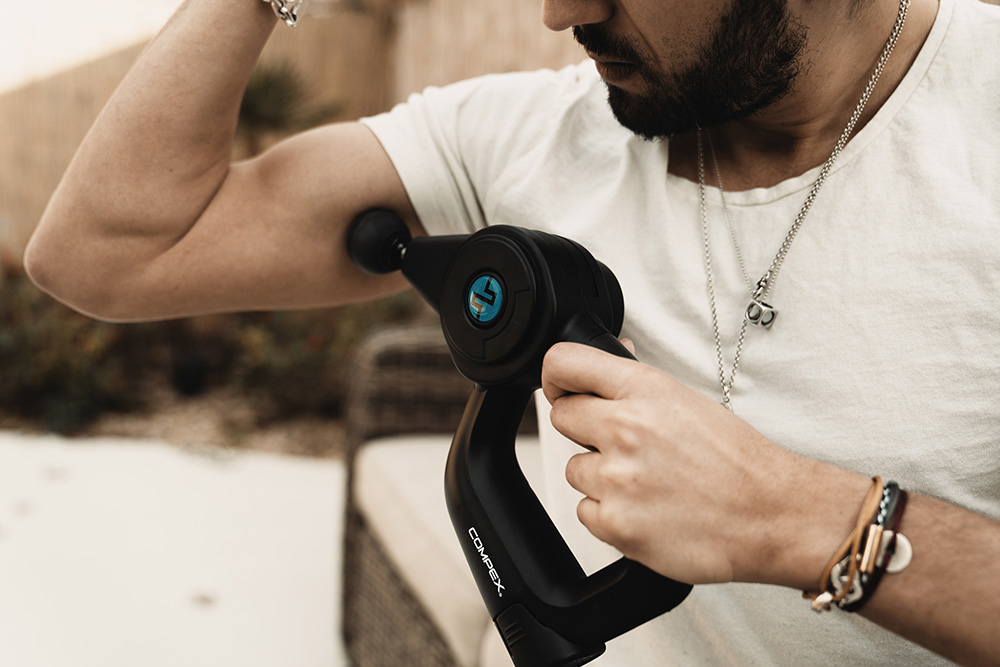 I have tested and approved the Compex Fixx Massager 1.0 gun to help muscle recovery, here is my detailed opinion.

//php comments_template();?>