Regular gym-goers know the times of the year when gym membership seems to double overnight.
The first wave is in January when people look to capitalize on their New Year's Resolutions by heading to the gym. The next big wave is around the beginning of spring when people start to get a head start on their beach body.
Your workout routine goes from lasting one hour to one hour and change due to waiting around for everyone. Combine that with the commute, changing, and showering and you're looking at hours for your workout.
Wouldn't it be great if you could do that from home?
Designing a home gym is the dream of many, but it often comes at the price of killing the look of your living space or simply killing space.
Below, we're going to talk about how to go about designing a home gym without all the sacrifices.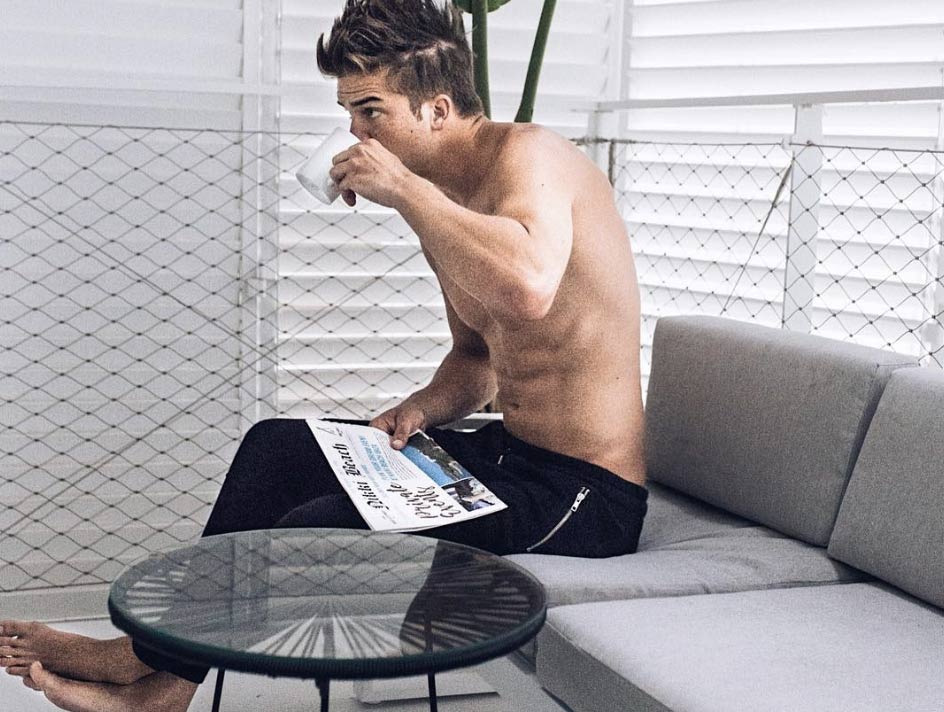 Model : River Viiperi
Choose a Room With Space
When you're looking through where you can put your home gym, think of the options in your house.
Can you fit a home gym in the corner of your garage? Do you have an extra bedroom that could be turned into a gym? What about the attic or basement? Can you double up and make it an office/gym combination?
When bringing in machines, you want to make sure you have enough space for installation and to make sure you can actually use the machine.
Bring in Enough Light
Not only is natural light part of the interior design rage these days, but it's also a great way to bring in a bit of energy to your home gym.
If you've got a gym that's on the darker side, not only is it going to lower your energy but it's not going to look as good. Make sure you bring in plenty of light to give your gym a lively feel and make it a room you're excited to be in, instead of one that's a drag.
Flexible Equipment
Thanks to innovations in fitness, there are plenty of machines and items out there that have multiple functions.
If you're looking at lifting weights, you're probably checking out dumbbells. Instead of buying a whole dumbbell set, buy a dumbbell set that has adjustable weights. They're easy to use, go up to the weight you need them to, and don't take up that much space.
With this, you can have a fully functioning gym without the need to take out a wall or expand an area. They can be stored and used in a small location.
Don't Forget About the Floor
Go to any gym and you're going to see the sign "please do not drop weights". Even though they may have padded flooring, too much dropping can damage both the weights and the floor itself.
You'll also want to consider the layout of your floor, as putting a heavy set of dumbbells between floor joists could cause warping or damage.
Invest in some rubber mats as well to protect your floor and keep sweat off everything. Your family will thank you.
The Home Gym Design
While you might be thinking about your future exercises and sculpted muscles, a surefire way to make sure you don't kill the look of your personal space is to make sure you enter with a designer's mind.
If you don't consider yourself to have the designer eye, then you should get in touch with Kansas City interior designers to help you with the layout and overall look. Do you want to keep it aligned with the rest of your house or make it some kind of unique sanctuary?
While it's often a popular choice to paint your gym bright white, they may bring in some other ideas to give your gym the perfect look.
Think About the Future

While you might have the perfect space for your home gym at the moment, what about the future? Will you need that space for anything else? Remember the importance of having a dehumidifier for your home gym to help you control humidity and eradicate other toxic substances such as mold and mildew.

Unsurprisingly, gym equipment is incredibly heavy and cumbersome. It's not something that can be moved by yourself over a weekend.

Make your gym functional for the future and create a sustainable design and area to get your sweat and pump on.

A home gym can be a good solution to workout, however, a home gym design has to suit personal preferences without killing your space.

//php comments_template();?>