Whether you're just passing through Paris or a native, the capital always has some great surprises in store! Discover, according to me, the 5 best bars in Paris to have a drink in Paris in a magical setting, with friends, family or to meet nice people.
In this article, I entrust you the top 5 of the best addresses not to be missed! And for that, follow the guide!
The Hoxton Paris
The Hoxton Paris is THE place to discover in Paris! Located in a private mansion dating from the 18th century, you will find the typical Parisian atmosphere. In a chic and period decoration, both refined and contemporary, you dive into another world.
In this luxurious hotel, the Jacques' Bar welcomes you in an atmosphere that transports you directly to the 50s. Velvet armchairs in gaudy colors, flowery wallpaper and paintings voluntarily yellowed by time that lock you in a sweet parenthesis. Take a spiral staircase to order your cocktails, spirits or glasses of wine and choose an intimate corner to savor them. And to complete your aperitif, taste the tasty planks garnished with local products.
Address : 30-32 Rue du Sentier, 75002 Paris – (+ 33 1 85 65 75 00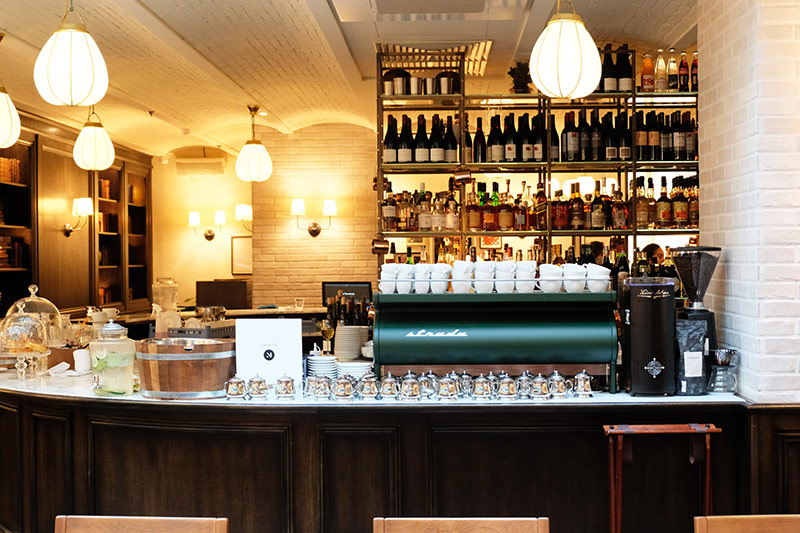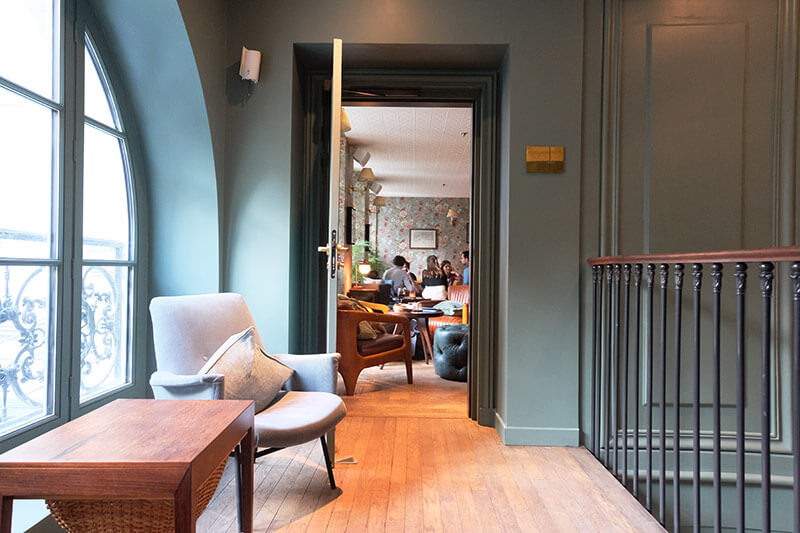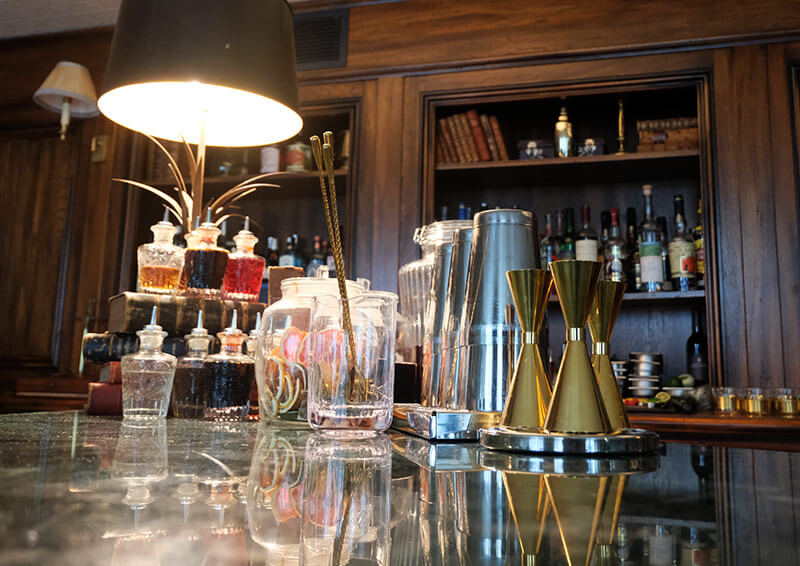 Hotel Particulier Montmartre – Bar le Très Particulier
The Hotel Particulier Montmartre is a bucolic place in the heart of the capital. An English style decoration, wrought iron tables on the terrace and a soft atmosphere await you. As soon as you enter the bar Le Très Particulier, you enter a red velvet and gilded case, the whole in the hollow of a dense vegetation.
Open every evening from 6 pm to 2 am, you can enjoy fabulous homemade cocktails, with recipes specially designed for privileged clients. The chef offers creations that awaken each of your senses and light up your taste buds. Such as the cocktail Le Très Particulier composed of Tanqueray Gin, flavored with cordial, elderflower, tonic with a tint of verbena and lavender.
To travel in a dreamy gustatory world, I recommend The Golden Ticket, a cocktail both greedy and creamy made with Blanche de Normandie, Cold-Creams coffee liqueur and almond milk.
Address : Hôtel Particulier Montmartre, 23 Av. Junot, 75018 Paris – 01 53 41 81 40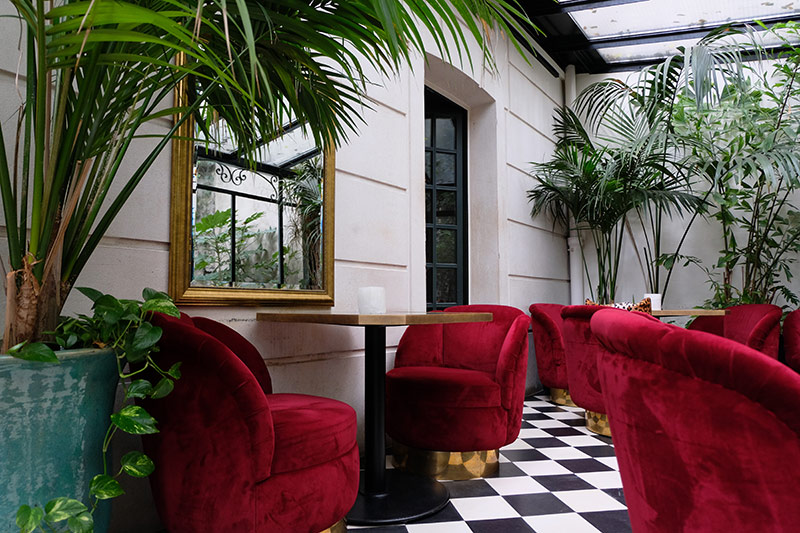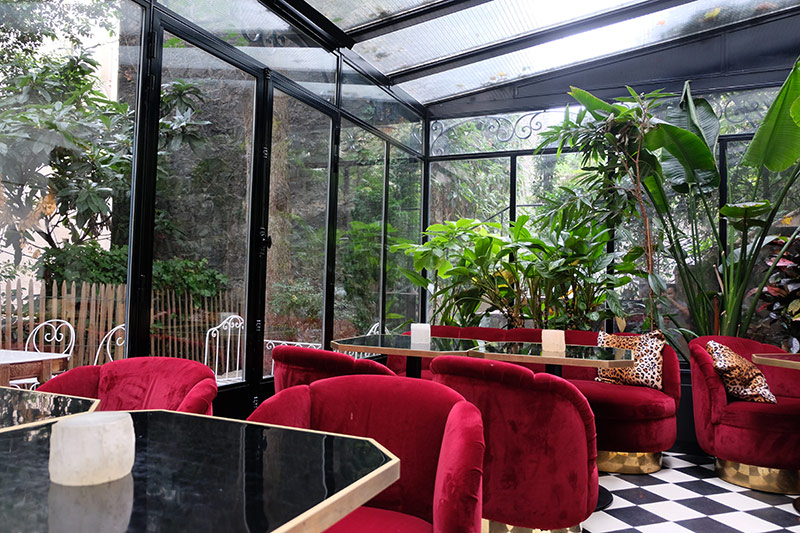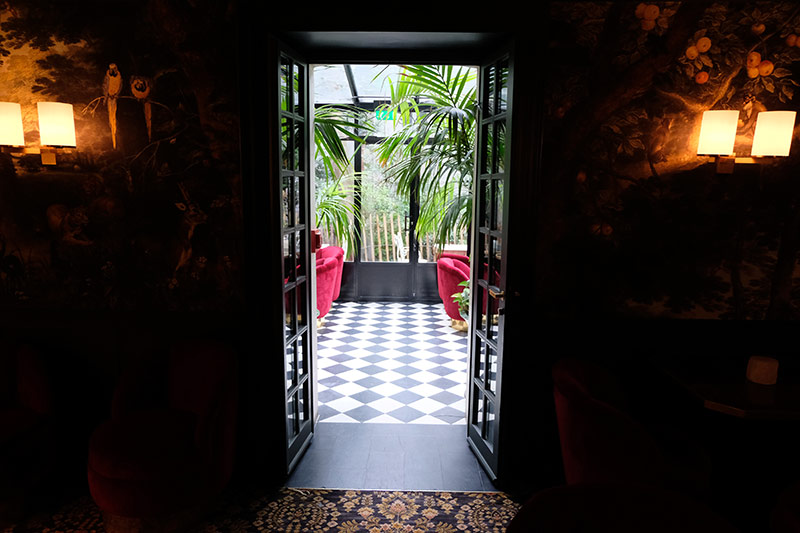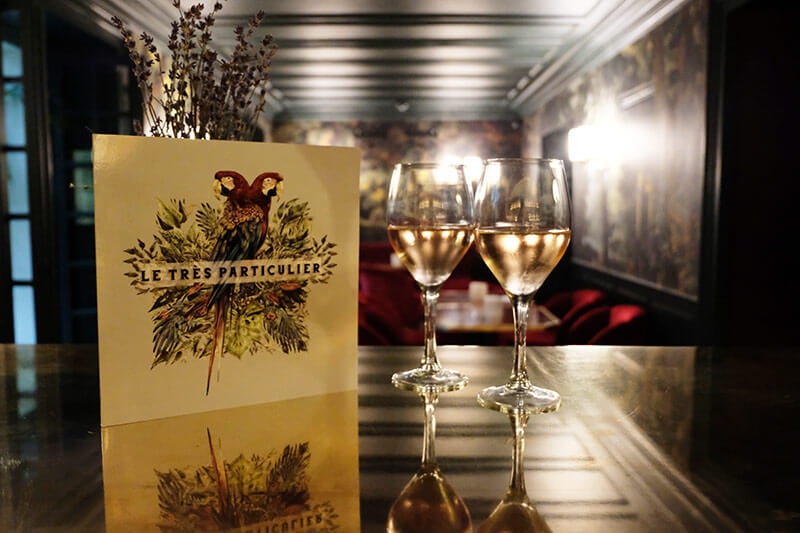 Read also Top of the best brunches in Paris
Terrace of the Hôtel des Arts et Métiers
The rooftop bar of the Hôtel des Arts et Métiers terrace offers you the opportunity to discover Paris under the open sky, while sipping your cocktail! This place is one of the most essential to discover. Not only for its exceptional view of the herbarium, but also for its casual chic atmosphere. If you want to go there with a group, I suggest you to bo your table.
Address : 243 Rue Saint-Martin, 75003 Paris – 01 80 97 22 80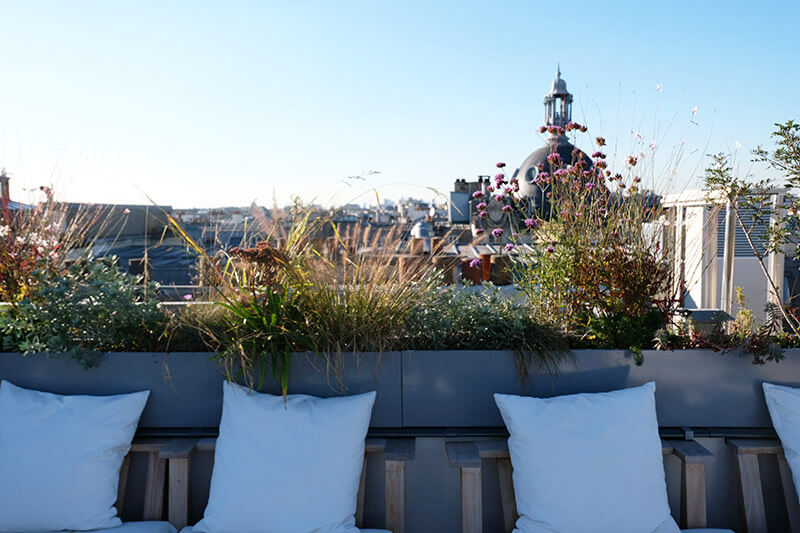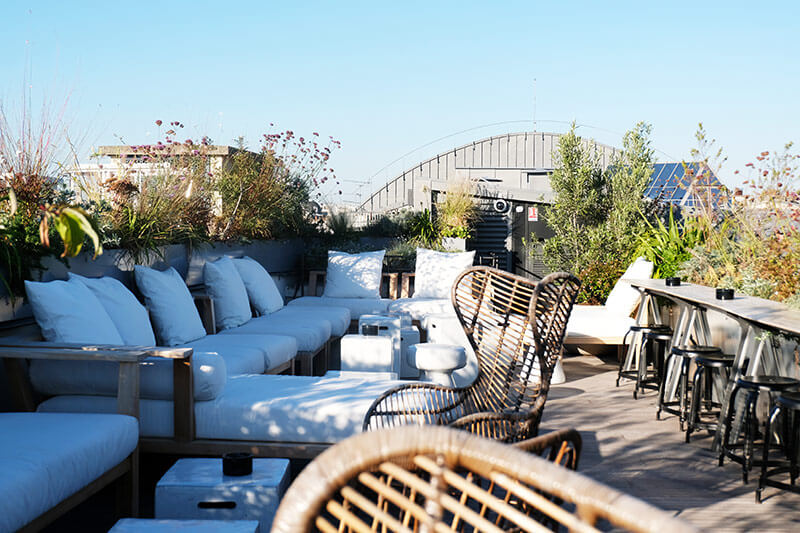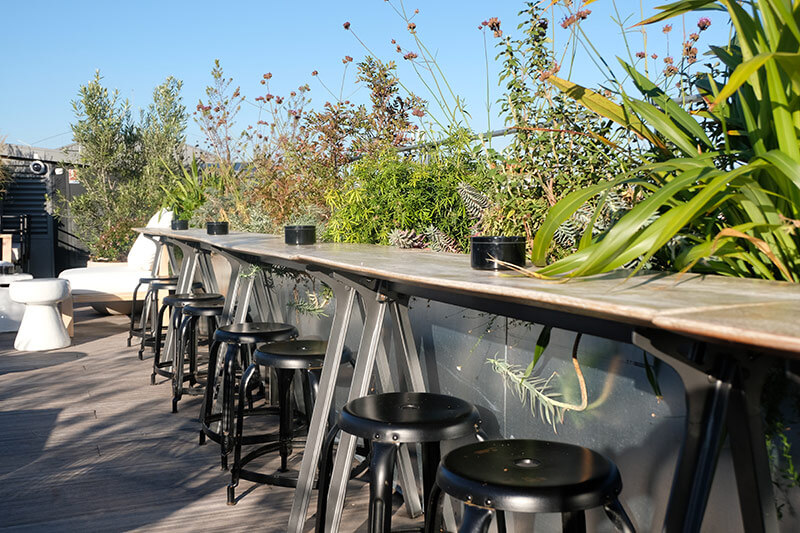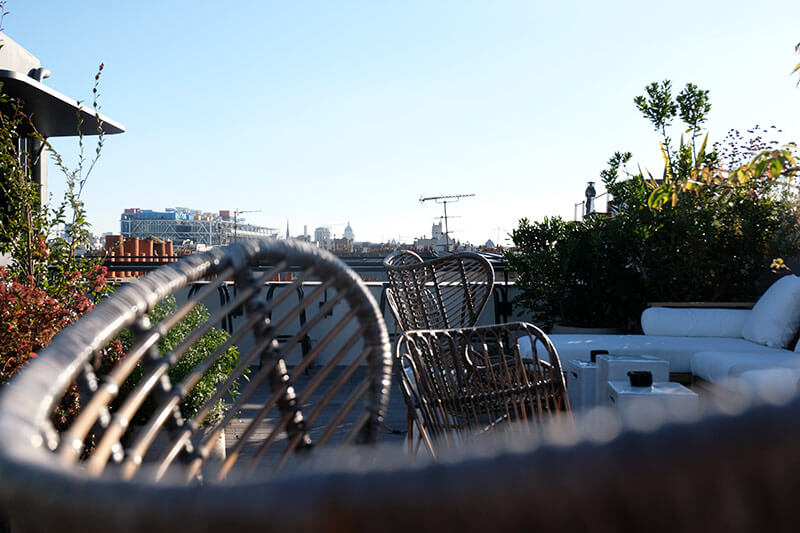 The Shangri-La Paris
In this particularly luxurious hotel, the decoration is just breathtaking! If you like gilding, large crystal chandeliers and old-fashioned moldings, you'll love having your cocktail in this renaissance decor.
The bar at Shangri-La Paris is not to be outdone. The large velvet armchairs and teak wood plunge you into a magical era. And to complete your moment, choose between the Botanist Bar or Les Lounges. Relax with house cocktail recipes or excellent spirits. And to accompany your tasting, trays of tapas, dim sum or caviar are available on the menu.
Address : 10 Av. d'Iéna, 75116 Paris – 01 53 67 19 98
Roxo Bar – Les Bains Paris

Have you ever thought of sharing a cocktail with friends in a jungle immersed in a bright, soft and warm atmosphere? Roxo Bar – Les Bains Paris is the place that allows you to realize this dream! The decoration is simple: lush plants contrast fabulously with all the sparkling crystal glasses that decorate the bar.

In this exotic atmosphere, smell the perfect aged spirits, to the rhythm of the shakers. The smiles of the bartenders and their agility will delicately give you a twist, for the great pleasure of your eyes! And when the cinnamon, clove or yuzus flavored cocktails perfume your table, you can only savor this moment with delectation. I recommend it to you!

Address : 7 Rue du Bourg l'Abbé, 75003 Paris – 01 42 77 07 07

Enjoy unique cocktails in Paris, in magical places! Discover the top 5 best bars in Paris to spend unforgettable moments! Just for fun!