Venice Beach captures the essence of California's extravagance and sublimity. It's located between Santa Monica and Marina Del Rey, to the west of the City of Angels. Discover the top 10 things to do in this Los Angeles neighborhood, renowned for its bohemian lifestyle on the shores of the Pacific Ocean.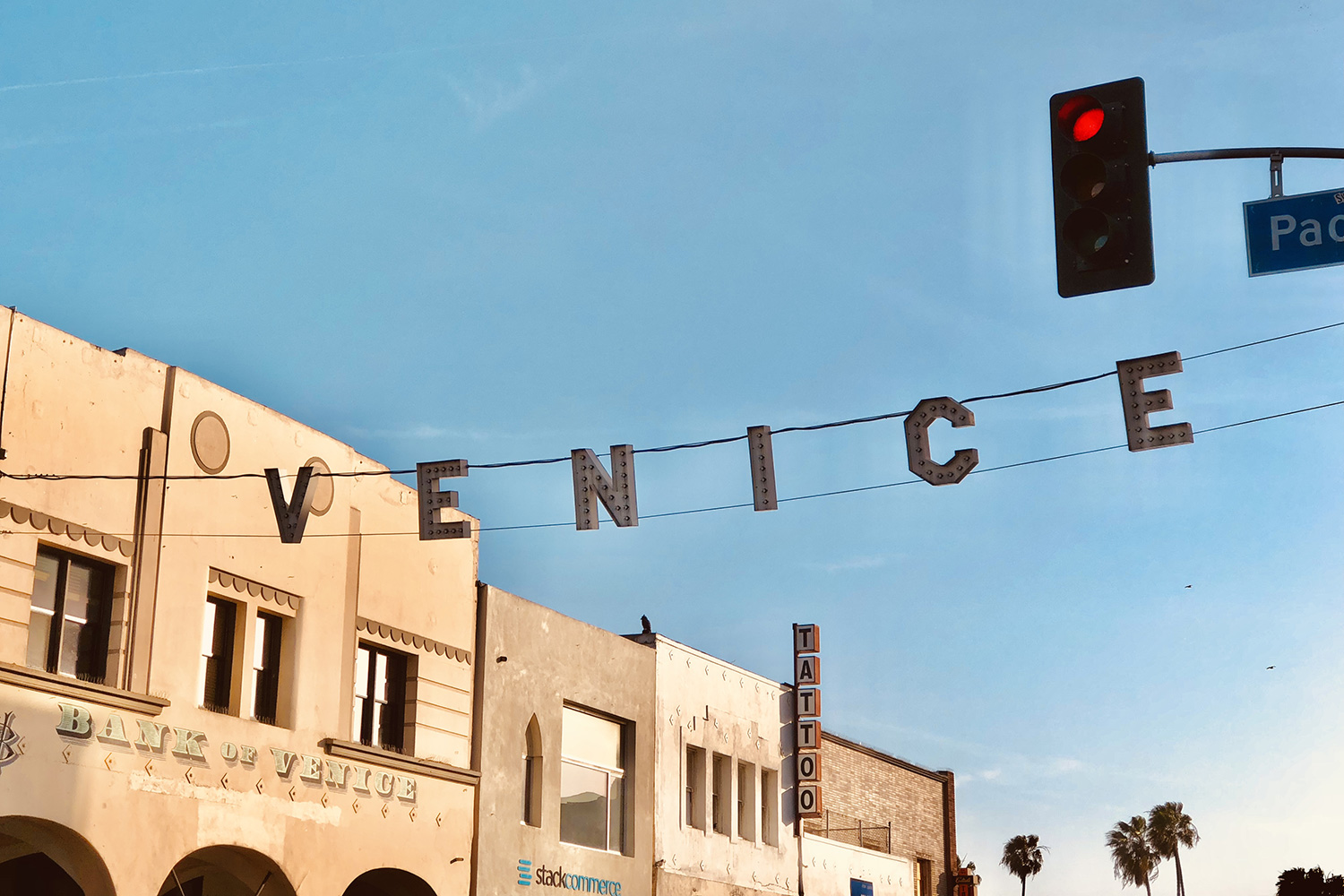 1. Venice City Beach
Venice City Beach is one of the most iconic beaches in the United States. Its fame is largely due to the Baywatch series.
Many scenes from the series were filmed here. You'll be able to admire the typical wooden first-aid stations and come across a few lifeguards in orange bathing suits. It's the ideal spot for a romantic sunset over the Pacific.
2. Venice Pier
At the level of Washington Boulevard, with its many bars and restaurants, is the pier of this magnificent district, "Venice Pier" in English. It juts out onto the sandy beach and ocean. It's a favorite spot for many local fishermen. A camera installed on the pontoon allows you to immerse yourself in the pier 24/7. Head to Venice Pier to watch the sunset or gaze out over the deceptively calm waves of the Pacific Ocean.
Don't hesitate to organize a picnic on the surrounding beach, with your partner or family. The air is mild in spring, but also in autumn.
3. Venice Boardwalk
The promenade along the Pacific Ocean, known as the Venice Boardwalk, has appeared in numerous American films and TV series. It has also been reproduced in the famous video game GTA – San Andreas. Strollers can discover a host of small merchants reflecting the bohemian lifestyle of this Los Angeles neighborhood.
Among the painters, caricaturists, fortune-tellers, sculptors and mimes, you'll find a real change of scene. This colorful troupe puts on a joyful show along the way. If you're looking for a souvenir of the city, this is the place to come. There are numerous stalls selling a variety of souvenirs: key rings, license plates, magnets, postcards, etc.
You may also like 10 tips for visiting Beverly Hills in Los Angeles
If you're feeling peckish, you can grab a bite to eat at one of the many little snack bars lining the Venice Boardwalk. On the menu: pizza, burger, fries, etc. If you'd like to get a tattoo, there are also several salons in the area. If you'd like to rent rollerblades or a bike, just visit one of the specialist shops. It's particularly pleasant to walk along the Venice Boardwalk on rollerblades, or even a bike. You'll be able to cover a great distance along the coastline, all the way to Venice Beach. However, beware of other cyclists and pedestrians.
4. Venice Beach Recreation Center
Along the Venice Boadwalk, you'll find the Recreation Center. It's home to several recreational areas, including gymnastics equipment, volleyball and handball courts, as well as tennis courts. If you're a basketball fan, you can try your hand at the ball on one of the open-air courts, and perhaps bump into one of the sport's American stars.
The Recreation Center is also renowned for its skatepark. With a surface area of 5 km², this area offers plenty of facilities for skateboarding fun. Access is free of charge. Please note that safety equipment must be worn.
5. Learn to surf
One of Venice Beach's legendary sports is surfing. This beach is the ideal place to learn the art of surfing, which originated in Hawaii, but is particularly popular in California. Indeed, the Californian coastline abounds with spots that are highly prized by surfers from all over the world. In Venice Beach, you'll even find surfing instructors offering introductory courses in many languages.
Even if you've never been on a board before, you'll be able to learn with confidence from an instructor who's mastered all the techniques. Equipment is often provided. All you need to bring is your swimsuit. And don't forget your motivation!
Venice Beach's waves are perfect for learning to surf. The first lessons involve learning to stand on the board and glide over small waves. Get ready for some delicious thrills.
6. Venice Canal
Head between Venice Boulevard and Washington Boulevard to discover an oasis of tranquility criss-crossed by the canals that give this Los Angeles neighborhood its name. Although many of these canals have been filled in to ease traffic congestion, the remaining six have been declared historic monuments. You can stroll along them, admiring villas with sumptuous gardens.
7. Shopping in Abbot Kinney
Abbot Kinney Boulevard is a very chic street in Venice Beach. The buildings are on a human scale. No tall buildings or grand hotels. The street is lined with tall palm trees. It's a very busy shopping street, with many restaurants. It's the ideal artery for cocktails and local food.
The facades of many of the shops are decorated with colorful trompe-l'oeil. Abbot Kinney, for whom the boulevard is named, was the contractor behind the construction of Venice's canals. For tasty vegan ice creams, visit the renowned Abbot Kinney's ice cream parlour.
8. Erwin Hotel
Head to Pacific Avenue to discover a colorful, sparkling building: the Hotel Erwin. With its atypical architecture, it looks as if it has stepped straight out of the 1930s. Thanks to its rooftop, it's one of the most famous places to enjoy a drink after dark. The view over Venice beach is breathtaking and panoramic.
9. Take great photos
Stroll the many streets of Venice Beach and take photos of the architecture immersed in lush vegetation. In fact, as you wander around, you'll have the opportunity to contemplate many colorful and curious plant species: sun-blooming mimosas, climbing bougainvilleas with their purple and pink flowers, sweet-scented jasmine, verdant cacti and more.
The local town hall takes great care in flowering the flowerbeds and parks. Many plant species acclimatize easily to the oceanic Pacific climate. It's a real pleasure to wander through the streets and discover all the floral subtleties.
10. The ideal neighborhood for fine dining

If you're looking to eat well in Los Angeles, Venice Beach is the neighborhood where you'll find numerous restaurants offering detox and healthy food. Coffee lovers won't be outdone. In fact, you'll find numerous independent coffee shops, all offering their own delicious specialties. If you prefer freshly squeezed juices and smoothies, you'll be pleased to find a multitude of juice bars. Finally, Venice Beach is a paradise for vegetarians and vegans.

If you continue further north, along the coastline, you'll have access to another iconic Los Angeles neighborhood: Santa Monica. We recommend that you start your visit at the Santa Monica Pier, where you'll find numerous attractions and restaurants where you can enjoy a burger and fries.

Here are the best must-do activities in Venice Beach, California, during your stay in Los Angeles.