Beverly Hills is one of the most beautiful and iconic neighborhoods in the United States of America. It is known for its lavish villas, celebrities and California oasis atmosphere. Walk through 13 square miles of movie sets. I invite you to discover 10 fabulous places in Beverly Hills that you absolutely must visit if you travel to California, because yes there are many things to do in Los Angeles!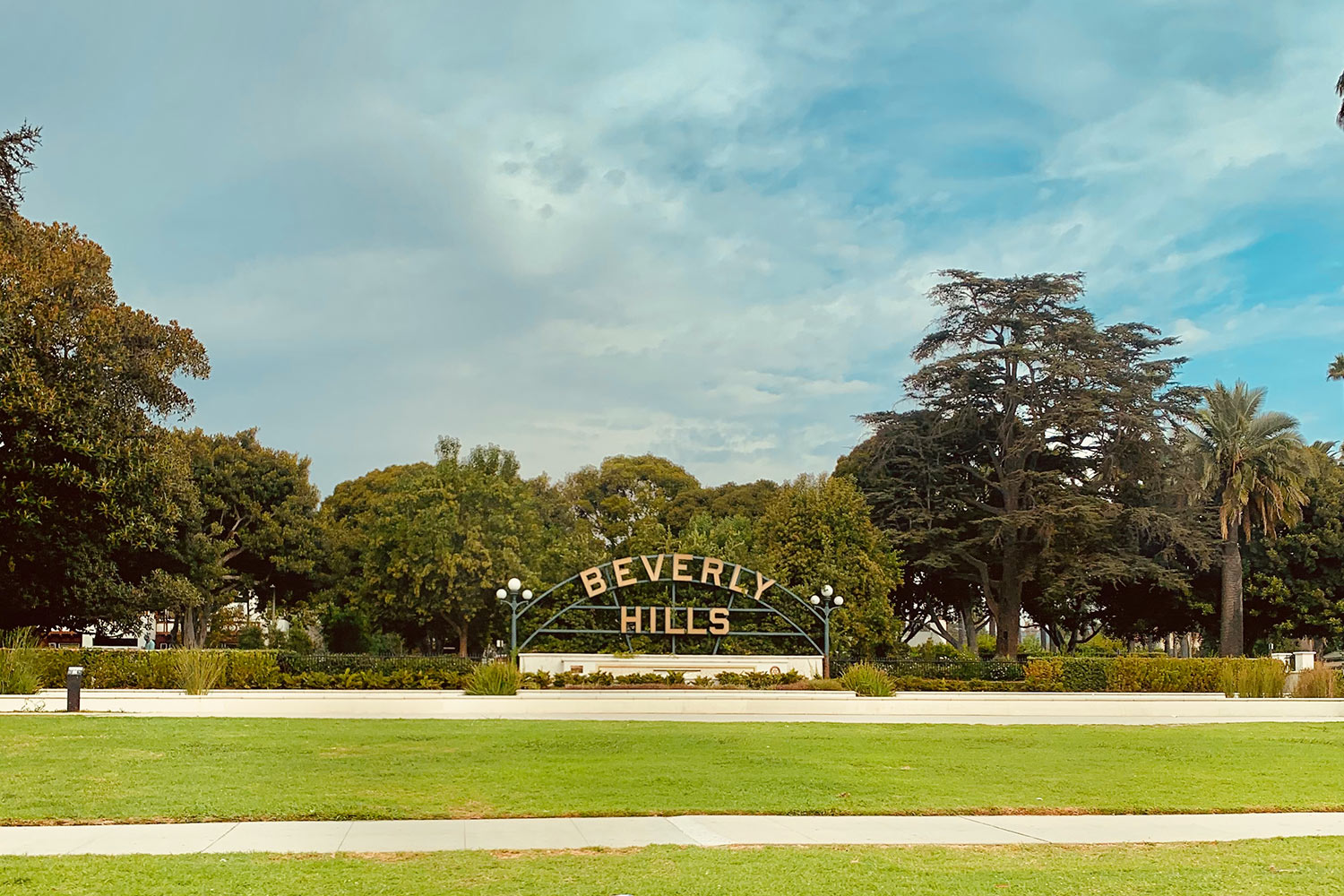 1. Mulholland Drive
Mulholland Drive is a succession of points of interest not to be missed. A lookout, located at #7036, offers a wonderful view of the Hollywood sign and the Griffith Park Observatory. On a sunny day, you can see the Pacific Ocean and Downtown Los Angeles.
For a great view of Universal Studios, head to Lookout #7701. This is also a great opportunity to photograph the Warner Bros. Studios and the San Fernando Valley. A must stop for Madonna and architecture fans at #6432. This beautiful home belonged to the world famous singer. At #12721, you will see a John Lennon villa and at #12900, the former property of Marlon Brando. If your curiosity leads you to 13511, you will have the opportunity to see the former villa of Bruce Willis.
2. Rodeo Drive
Rodeo Drive is the epitome of luxury in Beverly Hills. If you need to eat in Los Angeles, this is one of the best places to find a world-class restaurant. On this street, the boutiques of the most famous fashion brands flourish in the shade of the palm trees. Remember, this is where the beautiful Julia Roberts did her shopping in Pretty Woman.
Rodeo Drive is home to a shopping mall that cost nearly 130 million dollars. Big luxury stores like Dior, Gucci or Chanel are next to more affordable brands. During this shopping moment, you may have the opportunity to cross paths with a celebrity.
3. The Beverly Wilshire Hotel
Near Rodeo Drive, marvel at the lavish architecture of the Beverly Wilshire Hotel. It is built in an Italian Renaissance style. It has 395 rooms spread over 70,000 square feet. The Four Seasons Group currently manages the hotel, which was completed in 1928. The hotel features a monumental ballroom, an Olympic-size swimming pool and a gourmet restaurant.
4. Beverly Gardens Park
Need to recharge your batteries in the megalopolis of Los Angeles? I recommend taking a trip to Beverly Gardens Park. Walk through this green oasis on a pristine gravel path. Explore gardens and decorative fountains to refresh your spirit. One of the park's main attractions is its "Beverly Hills" sign.
Many tourists like to have their picture taken in front of this sign hanging over a beautiful water lily pond. It is still an iconic place for American culture. Many artists are celebrated by exhibiting their works.
5. Franklin Canyon Park
Franklin Canyon Park offers an immersion into 242 acres of invigorating nature. You can get there from Beverly Drive, just north of Beverly Hills. Numerous trails allow Los Angeles residents and tourists alike to get away from it all and enjoy the beautiful scenery.
The Ranch Trail allows you to explore the history and beauty of Franklin Canyon. The reservoir is inhabited by many bird specimens that will delight birdwatchers. If you are moved by the beauty of the birds, don't forget your binoculars.
6. Virginia Robinson Gardens
Virginia Robinson Gardens is one of the first luxury mansions in Beverly Hills. It rose from the ground in 1911. Listed on the National Register of Historic Places, this mansion is a must see. It will immerse you in the past.
Many activities are proposed according to the seasons. It is of course possible to follow a guided tour, but occasionally the managers organize cultural events. The architecture of the place will make you think of a stroll in an ancient Roman villa.
For lovers of botany and beautiful gardens, it is a place of beauty. Explore the Italian Renaissance-style terrace garden. You will have a magnificent view of many citrus trees and can stroll in the shade of sumptuous magnolias, camellias and gardenias.
A rose garden hosts many varieties of roses with intoxicating colors and scents. A simple garden presents several specimens of aromatic and medicinal plants. Finally, the Tropical Palm Garden is a small exotic wood very pleasant to walk through. Explore the paths lined with banana, frangipani and ginger trees.
7. Beverly Hills City Hall
Head to Beverly Hills City Hall. The imposing, palm-fringed building was built in the Spanish Renaissance style. It was completed in 1932. The eight-story tower is topped by a magnificent dome decorated with gold, green and blue mosaics. The interior is equally sumptuous since the floors are in terrazzo and the walls in marble.
8. Greystone Manor
The municipality has a beautiful mansion dating from the 1920s: Greystone. It is located in the northern part of Beverly Hills, easily accessible from Sunset Boulevard. A beautiful terraced garden welcomes visitors to stroll around.
Indeed, even if the interior of the mansion is often inaccessible, I invite you to stroll the green alleys of the park. Discover magnificent water features and tree-lined courtyards that offer you an enchanting walk.
9. The Spadena House
Did you know that Beverly Hills has a witch's house in its midst? Grab your camera and take some great shots of this unusual home. Be careful not to go over the fence, as this is a private property. Very close to Beverly Gardens Park, don't hesitate to make a detour to satisfy your curiosity. You will feel like you are in front of a house out of a fairy tale.
It is located at 516 Walden Dr, Beverly Hills, CA 90210
10. The Frederick R. Weisman Art Foundation

The Frederick R. Weisman Art Foundation welcomes you with a collection of art that will delight art lovers. I urge you to make a detour to this museum which exhibits many paintings by legendary masters: Cézanne, Picasso, Kandinsky, Miro, Magritte, etc.

I hope that these few tips will make you want to visit the fabulous Bervely Hills, which is full of unusual and sumptuous places that have made its reputation, particularly through the cinema.

I present to you the 10 most iconic places in Beverly Hills, Los Angeles, to take in the sights!