With the winter chill in the air, there's nothing like a good homemade hot chocolate. Some men are more inclined to drink coffee to warm up, while others prefer hot chocolate. This delicious drink is undoubtedly perfect for those with a sweet tooth. Many flavors are available to satisfy your sweet tooth.
Here are the 10 best hot chocolates in the French capital. Your taste buds will be delighted!
1. Jacques Genin, hot chocolate made simple
This chic place is one of the world's best chocolate-makers. There's no need to add anything artificial to Jacques Genin's hot chocolate. Just enjoy the authentic flavor of this delicious beverage. His recipe is a sublime blend of refined ingredients.
Whole milk, 64% Caribbean or extra bitter chocolate, nothing more! The milk is boiled, and the chocolate delicately blended into the milk. The Master Chocolatier constantly whips the mixture to obtain an exquisite, smooth and light drink. If you prefer to enjoy it without milk, hot chocolate can be prepared simply with water and chocolate. No other ingredients need be added. Your taste buds will delight in the powerful flavor of chocolate.
133, Rue de Turenne, 75003 Paris.
2. Plaq, exceptional ingredients
Chocolate lovers will be won over by this address. Good cocoa mixed with a touch of organic cane sugar and you're done. The ingredients are carefully selected. No additives, preservatives or cocoa butter are added to the raw materials. As a result, this nectar is made exclusively with top-quality cocoa beans. I guarantee you that this hot chocolate is made only with exceptional products.
4, Rue du Nil, 75002 Paris.
3. Rose Bakery, an English-style tasting experience
Founded by a Franco-British couple, Rose Bakery has made a name for itself in Paris. Are you a fan of British gastronomy? You're sure to be won over. Indulge in hot chocolate and delicious pastries. Scones, carrot cakes, red fruit crumble, brownies… To enjoy them, visit two establishments.
30, Rue Debelleyme and 46, Rue des Martyrs.
4. Le Shangri-La – La Bauhinia
This famous hotel has been around for many years. Served in 2 pitchers, one of milk and one of hot chocolate, it's both smooth and creamy. I think you might like this address. It's one of the most luxurious hotels in Paris. The clientele is mainly made up of regulars and celebrities.
10, Avenue d'Iéna, 75116 Paris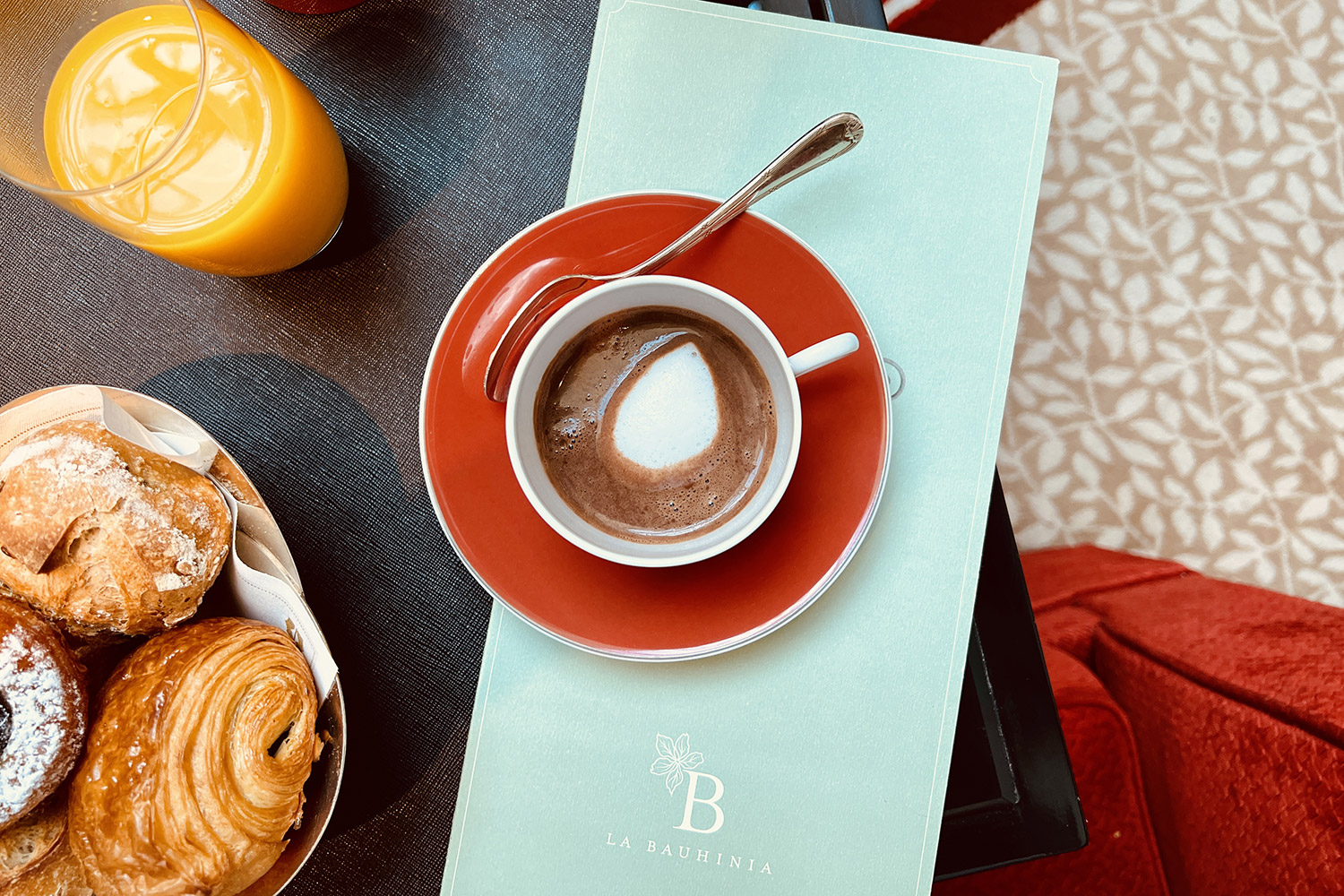 5. Le Lignac, the chef's signature chocolate nectar
A perfect recipe to treat your taste buds and find comfort. Refined, creamy and deliciously aromatic, there's nothing like it to lift your spirits and warm you up. The atmosphere is relaxed. Orders are taken at the counter. Numerous pastries are displayed on the counter. Prices are not excessive, and I assure you that the gourmand in you will be able to enjoy them to the full!
25, Rue Chanzy, 75011 Paris.
6. Toraya, exoticism in your hot chocolate
Want to break the mould of traditional hot chocolate? Add matcha green tea or soy milk to your favorite drink. Original recipes to tantalize your taste buds. The setting is just as original. The elegant ivory décor transports you into an atmosphere of zenitude and softness. For lovers of Japan, I recommend this address to take you on a journey and taste new flavors.
10, Rue Saint-Florentin 75001 Paris
7. Angélina Paris
This legendary Parisian spot has been around since 1903. For lovers of hot chocolate, this address is a must. Many tourists and Parisians come here to enjoy the famous Mont-Blanc and the must-try hot chocolate called "L'Africain". Three African cocoas make up this delicious beverage: Niger, Ghana and Côte d'Ivoire. It's been a hit for 120 years.
226, Rue de Rivoli 75001 Paris
8. Les Deux Magots
Every sip of their hot chocolate is a plunge into the richness of finely selected cocoa, married with the velvety smoothness of fresh cream and the tenderness of fresh milk (on request for cream). Prepared with the utmost care by passionate artisans, this comforting hot chocolate evokes the very soul of Paris. The aromas dance in harmony, creating a symphony of flavors that delicately caress your taste buds. Delicious with my croissant or you can also try a pain au chocolat !
6, Place Saint-Germain-des-Prés, 75006 Paris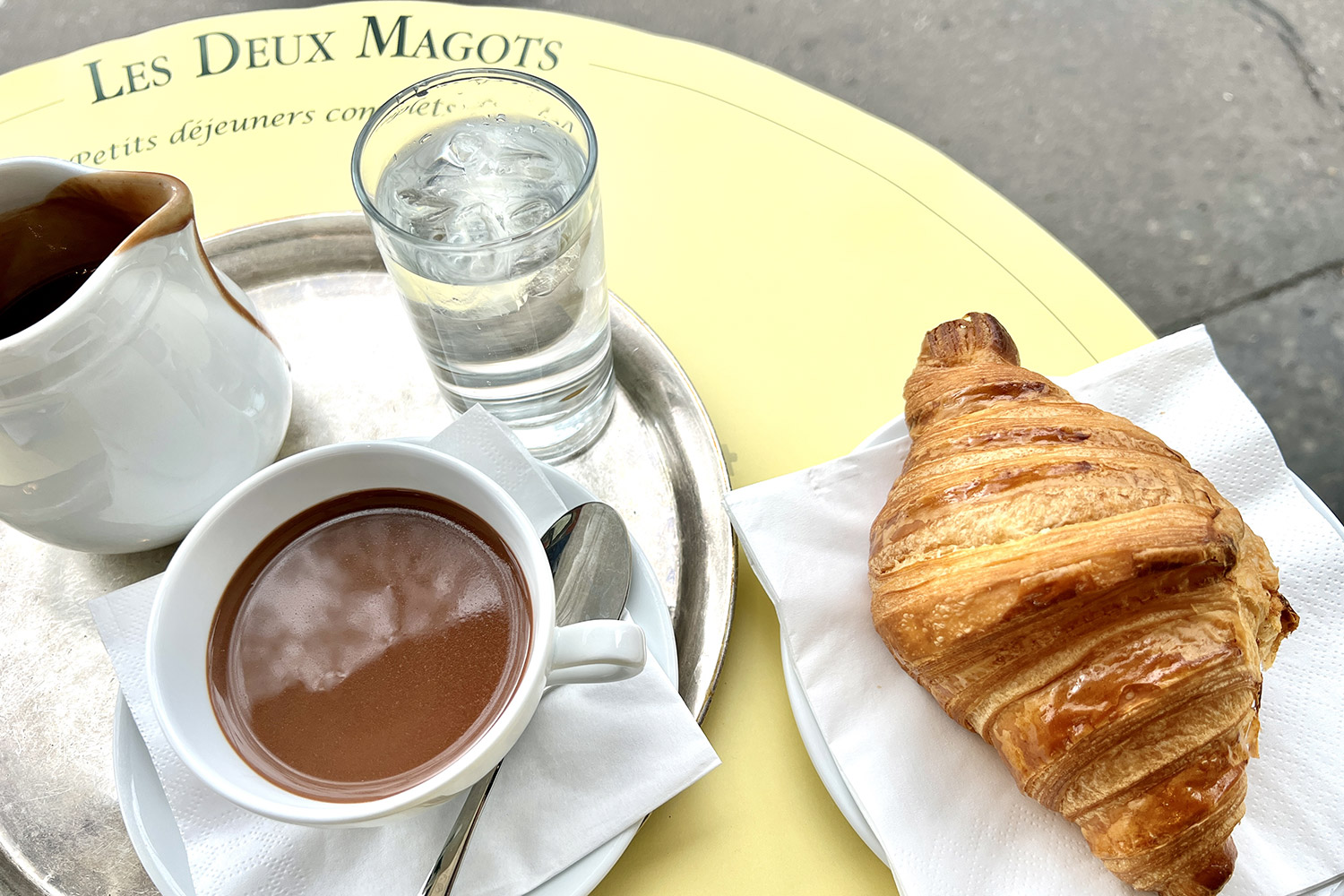 9. Hoct & Loca, a chocolate bar
Looking for a gourmet break? Let yourself be tempted by an exquisite hot chocolate. Whether you prefer traditional or vegan, you'll be totally seduced by this comforting drink. A must: accompany it with a little chocolate sweetness. You'll be telling me all about it…
99, Rue de la Verrerie, 75004 Paris
10. La Manufacture Cluizel, a simple and delicious recipe

Michel Cluizel's hot chocolate is both succulent and creamy. The ingredients are of the highest quality. There's no need for gimmicks. Just Kayambe® Dark 72% cocoa chocolate, mixed with semi-skimmed or whole milk… All heated in a chocolatière.

201, Rue Saint Honoré, 75001 Paris

Discover the 10 best hot chocolates in Paris. Creamy, full-bodied, vegan, light, there are many variations and flavors to enjoy.