There's more to life than work and the various responsibilities that weigh us down on a daily basis. It's essential to know how to take time out to enjoy the good things in life. With this in mind, there's nothing better than travel and discovery.
What if this time, I were to take you right into the heart of the capital's only skyscraper hotel? A lobby overlooked by luxurious wrought-iron banquettes, a marble lobby, a breathtaking view… Welcome to the Hyatt Regency Paris Étoile.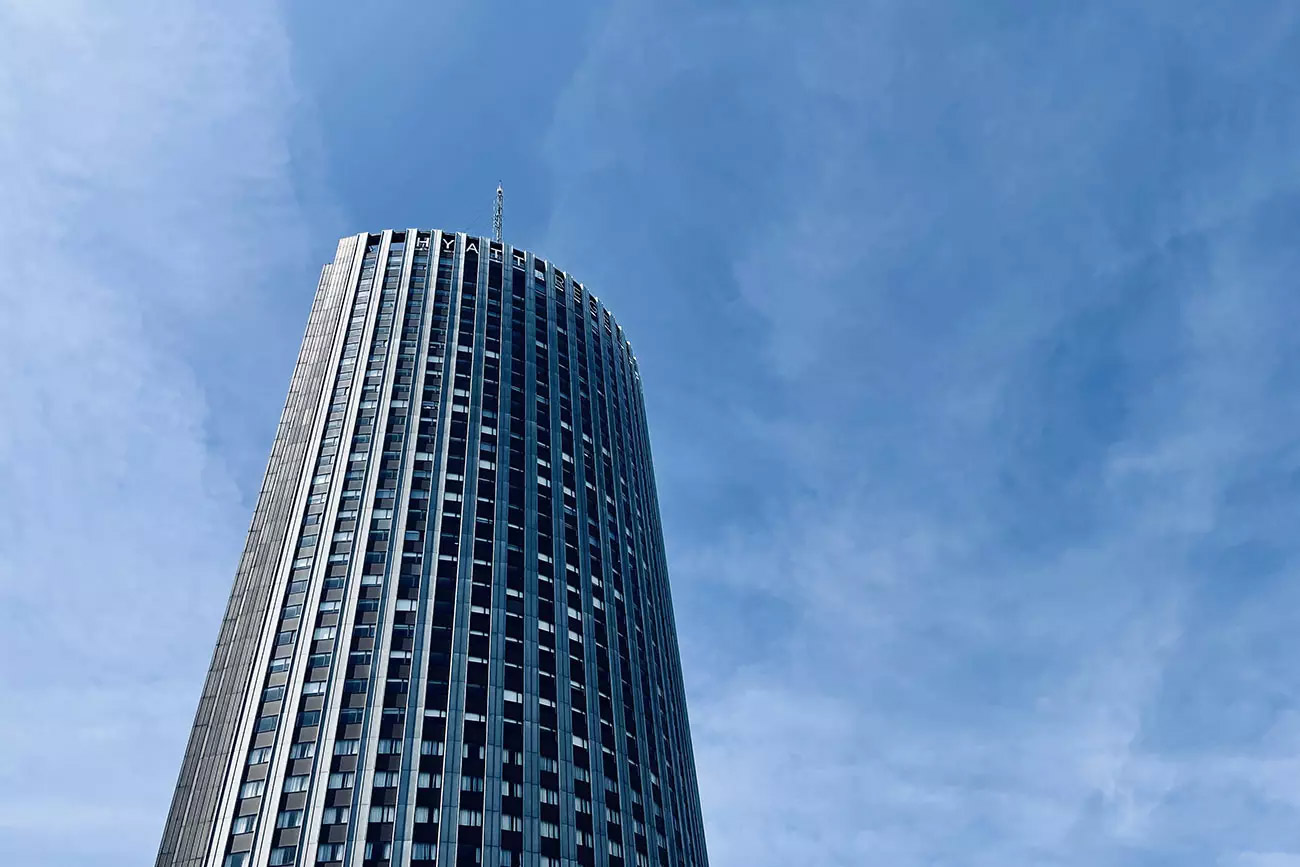 The rooms: for a comfortable and unforgettable stay
The Hyatt Regency Paris Étoile is the very first, and quite possibly the only, skyscraper hotel in Paris. With 34 floors in all, it's impossible not to notice it on a trip to Paris. The hotel was inaugurated in 1974 and is directly connected to the Palais des Congrès.
Over the years, it has undergone numerous renovations. The latest improvements were made in 2016. It took 2 years to bring a new, luxurious, modern and comfortable touch to the hotel's 995 rooms, including some 20 suites. Of course, it's not the most intimate place in Paris, given that tourists and locals cross paths all year round. Nevertheless, the service remains impeccable and the rooms offer impressive views of Paris.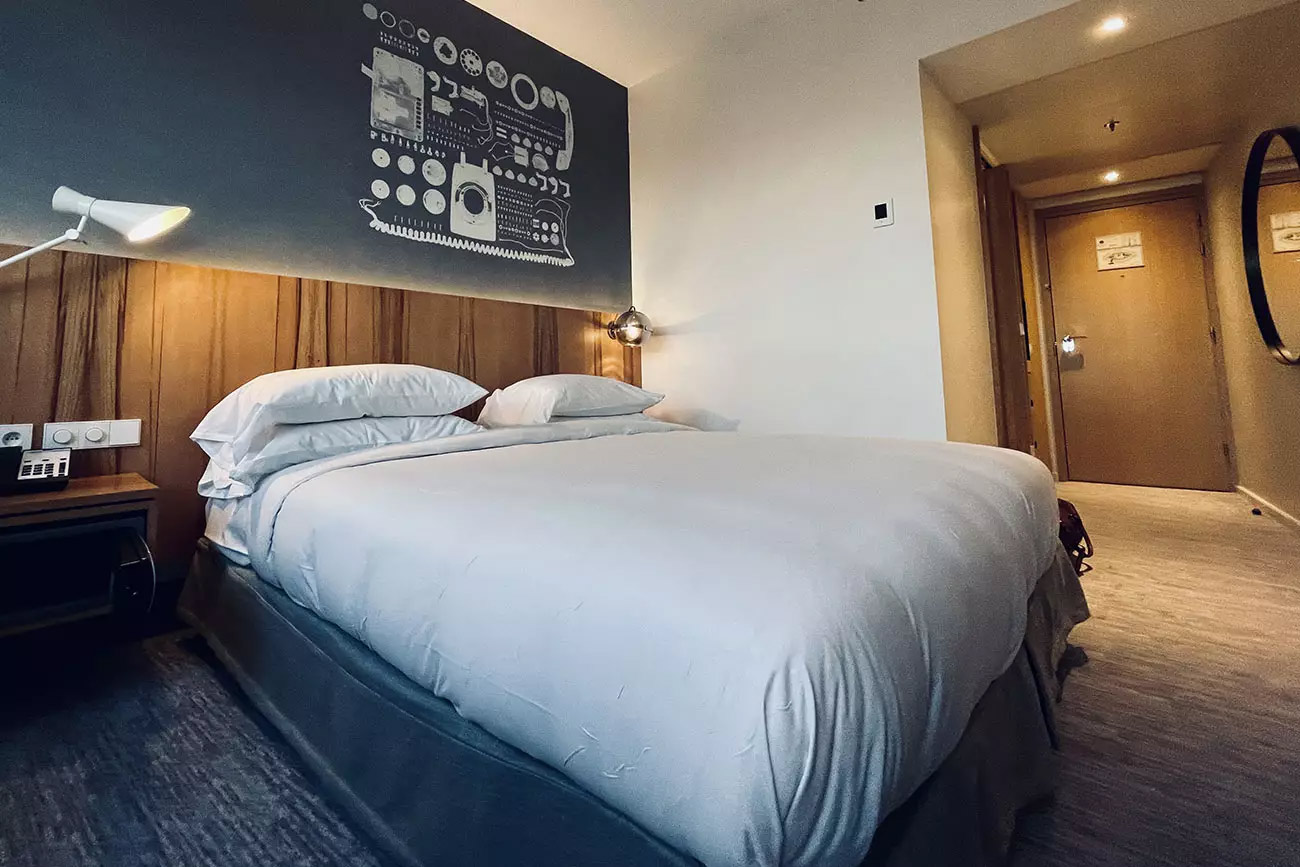 At Hyatt Regency Paris Étoile, you can choose from a variety of rooms and suites. Whether you're staying alone or as a couple, for a weekend or a few days, you can choose between a contemporary 22 m² room with a king-size bed and a view of the Eiffel Tower, and a Deluxe room.
Deluxe rooms are located on an upper floor and feature a king-size bed and walk-in shower. They also offer panoramic views of Paris and Montmartre's Sacré-Coeur. There are also Deluxe rooms with access to the Regency Club.
For a family stay, the hotel has several 44 m² family rooms with one king-size bed, two twin beds and two bathrooms. You can also opt for family rooms with panoramic views of the Eiffel Tower and the various monuments of Paris.
Suites
Suites at the Hyatt Regency Paris Étoile offer breathtaking views of Parisian monuments. For business stays, there is a choice of suites. In particular, you'll find the Regency Executive Suite, a spacious 70 m² space, furnished with a king-size bed, dressing room, two bathrooms, living room and even a dining room.
This suite offers an enchanting view of Paris. You also have the loft suite, located on the very top floor of the hotel. Overlooked by large bay windows, this premium suite offers a view of Montmartre. The hotel also boasts a Regency King Suite, an Eiffel Tower Suite and a Presidential Suite.
The restaurants: a treat for the taste buds
The soul of the Hyatt Regency Paris Étoile lies in the sober ambience and lush modern style of its rooms and suites. But I'm not going to lie to you that the hotel would be nothing but a titanic tower without its fabulous bars and restaurants.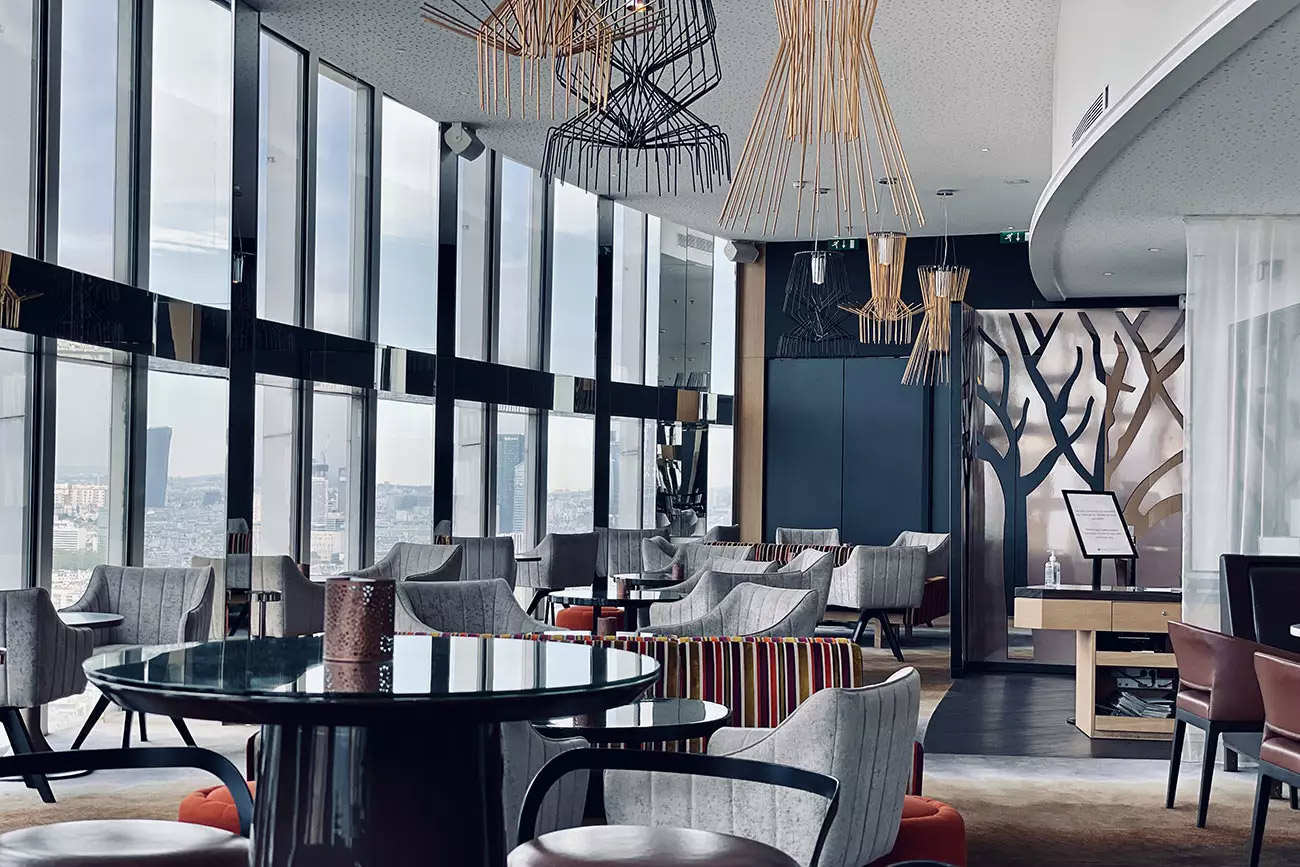 If, like me, you love French gastronomy, you won't be disappointed. Right in the heart of the lobby you'll find Mayo, a restaurant where you'll be offered a menu featuring local producers. In a luminous setting with a friendly atmosphere, you can savor delicious dishes while enjoying the pleasure of meeting new people. It's also a great place for socializing. The Mayo is also open daily from 6.30am to 5pm.
The bar and its incredible view of the Eiffel Tower
It's impossible to stay at the Hyatt Regency Paris Étoile without visiting the famous Windo Skybar. Perched on the 34th floor, the Windo Skybar offers spectacular 360° views of La Défense, the Arc de Triomphe and the Eiffel Tower. I recommend that you visit Windo Skybar in the early evening.
The show is even more impressive. If you're staying in a Club room or suite, then make the most of your access to the Regency Club. As well as enjoying delicious flavored cocktails, you can also have breakfast here.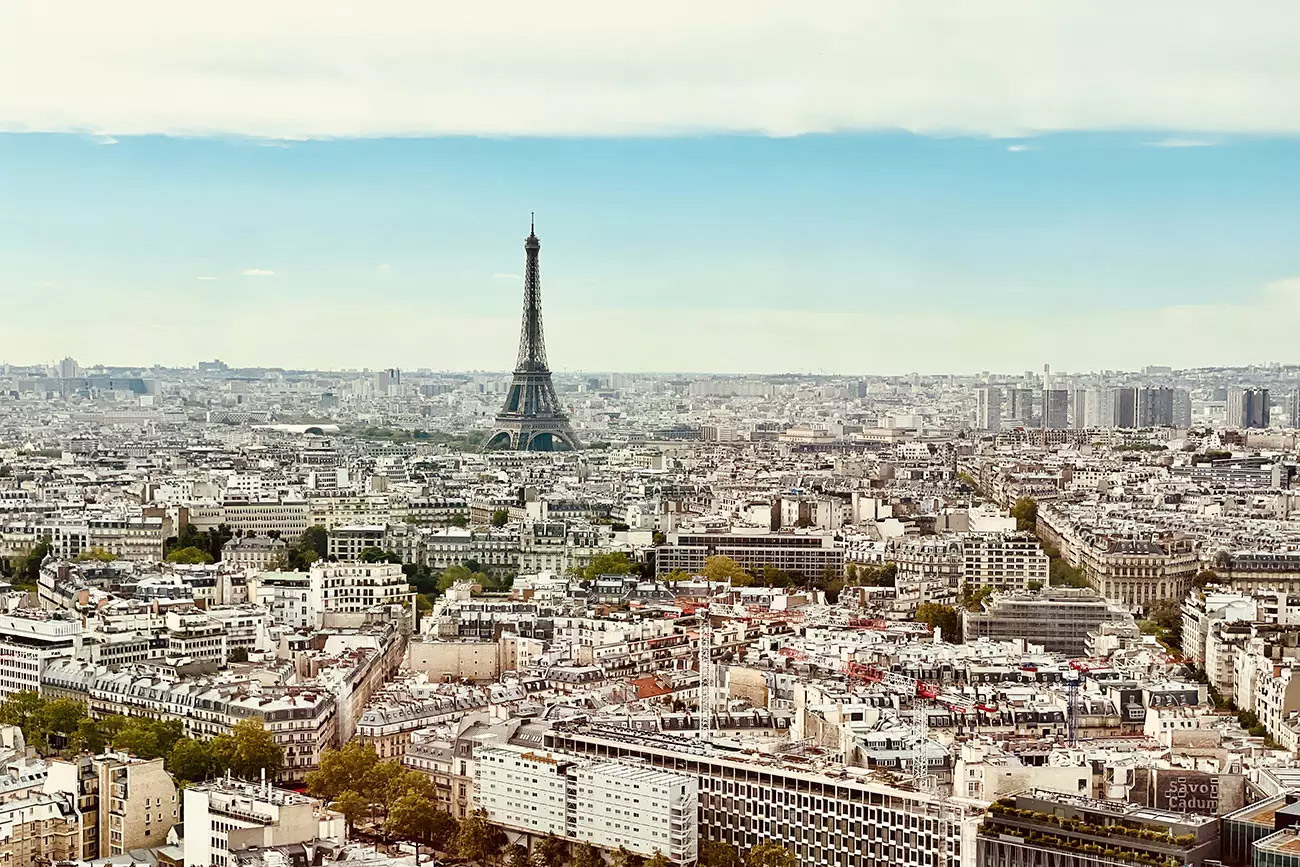 Other services
In terms of service, I'm not going to lie to you that such a prestigious hotel has to deal with several hundred visitors every day. So don't expect too much in the way of personalized service.
In any case, you'll find everything you need to ensure your comfort. You'll have internet access, room service, air conditioning, TV, king-size bed and breakfast. The hotel also has a fitness club, a computer concierge service and a train station or airport transfer service.
The location
The Hyatt Regency Paris Étoile, with its 995 rooms, 35 meeting rooms and 360° bar, is undeniably an iconic hotel. Located right on the Champs-Élysées, this 140-metre-high tower is a veritable mini-city.
Added to this is its location adjacent to the Palais des Congrès, giving access to a wide range of leisure activities and services all under one roof. There are also a large number of ready-to-wear boutiques on site should you wish to purchase gifts.
To book, click here guys !
The Hyatt loyalty program

You'll be delighted to know, as I was, that there's a Hyatt Group hotel loyalty program. This program entitles you to a number of benefits, including the possibility of a free stay. To do this, you'll need to earn points by staying at the hotel or making purchases from the hotel's partners.

Looking for an unforgettable stay in Paris? Then come to the Hyatt Regency Paris Étoile, the only skyscraper hotel in Paris.