This post also contains referral links and I will be compensated if you make a subscription after clicking on my links
Investment platforms can be extremely useful for users who actually know how investing works. It's imperative that you know the ins and outs, and the risks involved when investing in crypto or investing in stocks. Otherwise, you may end up losing a lot of money.
Robinhood for beginners discusses what Robinhood is, how to sign up and invest, its pros and cons, and what are the risks involved. You'll learn everything you need to know about Robinhood – the investment platform that is gaining popularity.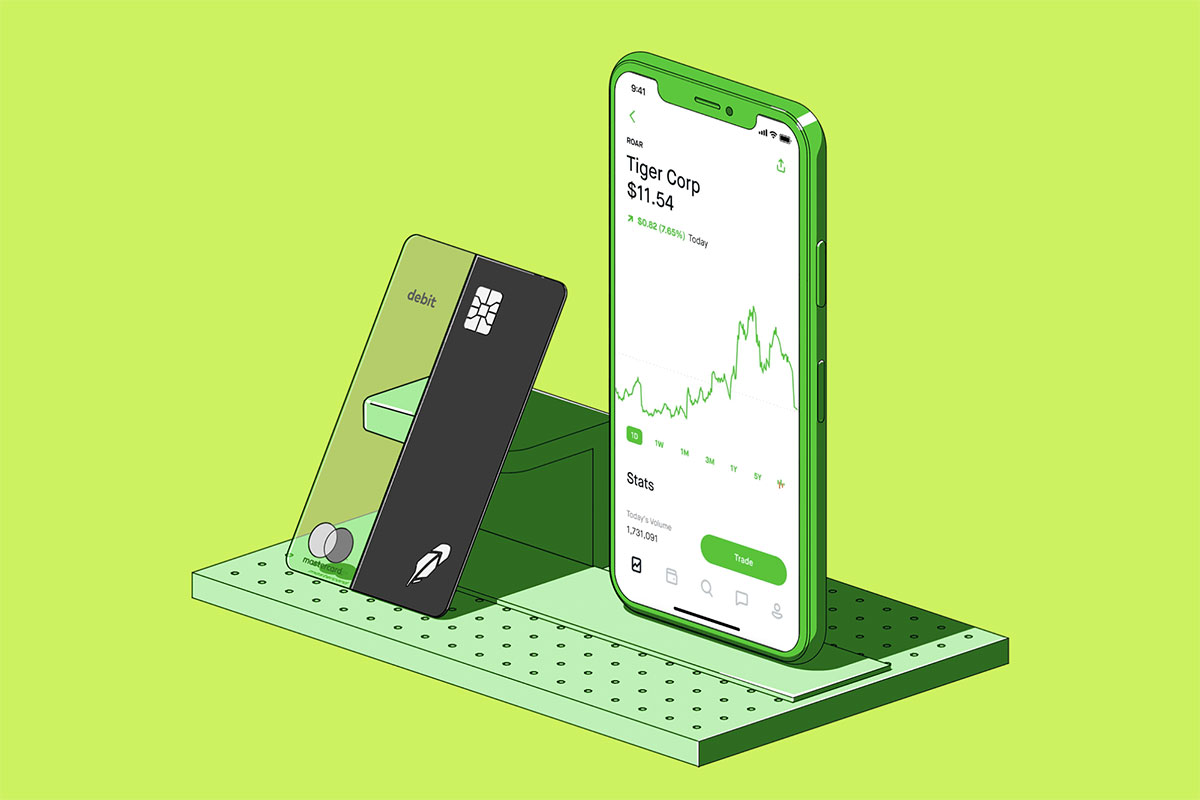 What is Robinhood?
Launched in April 2013, Robinhood is a free investment platform accessible only on a mobile. It lets you trade ETFs, cryptocurrencies and stocks with no commission fees, which means there is no need to hire a traditional brokerage to be able to invest. With its easy-to-use platform, users can buy stocks and ETFs without maintaining a minimum balance. You can buy as many or as few stocks as you would like. The only fees you need to pay are nominal regulatory fees.
Robinhood is popular amongst first-time investors, mostly 21-year-olds and above. In the app, there is a simple interface with real-time market data. You can see your portfolio, zoom out price changes over the entire history of your account or last month's data. It has a game-like interface showing two watch lists – one for stocks you want to watch out for and your held stock. The app also provides you with a screen showing price changes, buy and sell buttons and detailed information about your shares, purchase history and stats.
Robinhood offers three types of accounts to users: Robinhood Instant, Robinhood Gold and Robinhood Cash
Robinhood Instant is a free upgrade allowing you to instantly use deposited funds. You can access up to 1000 USD deposits with this account. However, your account will be a limited margin account.
Users who want more features may sign up for Robinhood Gold, a paid upgrade that converts your account into a margin account. There is a flat monthly fee for Gold and it gives you access to instant deposits, including after-hour and pre-market access. There are risks involved though – you could end up losing more. With a Gold account, you need to have a minimum of 2000 USD in your account.
With a Robinhood Cash account, you can place trades during extended hours and standard sessions. You just won't have access to instant settlements or instant deposits. Keep in mind that you can always downgrade to this account from Gold or Instant.
How to Register to Robinhood?
Signing up for a Robinhood account is easy. Download the app and submit an application. Within 5-7 days, you'll get either a confirmation email or when they need more verification from you.
You need to be at least 18 years or older to sign up for Robinhood, have a valid SSN and a US address
Some users may be asked to submit additional docs. Robinhood will send an email on which documents they need to submit, why they need them and how to submit these documents using the app. Do submit authentic documents so your application won't be denied.
Submitting documents using the app
Simply tap Take Photo and then select the type of document and follow the rest of the on-screen instructions on how to take a photo and submit docs.
Submitting documents via a secure file portal
Just click on the email link sent to you and type in your Case ID. Check the email from the Support Team for your Case ID. The next step is to type in your email address, attach the file and click Submit.
Make sure that you reply to the email with the upload link so that they can start reviewing your application.
As soon as your application is accepted, start building your inventory profile. You will be asked to answer a few questions such as your timeline, goals, income and risk tolerance.
How to Invest?
If you are a novice or a first-time investor, it's important that you understand what you are buying and selling. It would be better for you to visit investing sites such as Money.com so you know how investing works and you can learn some investment strategies.
Another way is to use a stock market simulator so you can somehow practice how to invest. With the simulator, you'll learn about how the market fluctuates over time and how to build good investing habits.
For Robinhood, start small first. Since you are most likely a beginner, start with an amount that you are actually okay with possibly losing. Never use essential money with Robinhood, especially if you are a novice. Also, try to stick with just ETFs and stocks, as much as possible.
When investing, it's best to have a game plan or a system and stick to it. Building wealth with stocks also takes time so make sure that you can commit to this – by commitment, you should go out of your way to learn how to do it right.
Also — you need to understand that losing is very likely with Robinhood, especially for first-time investors. So as much as possible, only invest as much as you are willing to lose.
What Are the Pros and Cons?
Like all trading apps, Robinhood has its advantages and downsides.
The Pros
Robinhood is Completely Free
One advantage of Robinhood is it's free and you can start with a small amount. This is why this investment platform is so popular — there's no account minimum and it's so simple to use. Also, you can use Robinhood with no commitment and yes, investing in Cryptos is also free !
Clean User Interface
The Robinhood app may look like a game app. It's designed for mobile-first so it's pretty easy to navigate. Anyone who uses a smartphone will have no problem navigating the Robinhood app. Using Robinhood will be a cinch.
There is a Web Version
Robinhood is now available on the web. The brand-new web version has discovery tools to help all users become better investors. It features Collections where users can discover new stocks; People Also Bought, where you get to see what other investors have bought on Robinhood; News & Fundamentals where you get to read the latest headlines about investing, and other helpful features.
The Cons
No Resources Available for First-Timers
Since the app is mostly for beginners, you'd think they have available resources for getting started. However, you'll find no Investing 101 article in the app or a Getting Started article.
No IRA Options
Robinhood doesn't have any tax benefits of IRA. While there is no need to pay taxes for investing in stocks, you do need to pay for gains on the stocks that you decide to sell.
What Are the Risks?
Is your money safe with Robinhood? With Robinhood, up to 500,000 USD for securities and 250,000 USD for cash per account are covered by the Securities Investor Protection Corp.
Robinhood is also regulated by the Securities and Exchange Commission. SEC oversees their securities market to ensure fair dealings. However, SEC only prosecutes civil cases against companies or users who engage in insider trading or commits fraud. They do not offer protection for the individual investors in Robinhood. Your investment is not protected from actions taken by Robinhood.
First-timer or novice investors need to be extra careful when investing with Robinhood. The platform offers just simple investor tools compared to other major brokerages. This may not be beneficial for beginners. Chances are, it may lead to making uninformed and hasty decisions. You could lose the money that you have invested if you are not careful or if you do not know how investing works.
A rule of thumb is to not invest if you do not know how to do it. Invest your money in risk-free investments instead.
Robinhood also does not offer dividend reinvestment programs to its users. It only offers stocks and ETF, no mutual funds or bonds. They also do not have an IRA account option which is a major disadvantage.
Register for free on RobinhoodGet one free stock when you link your bank account! Click here
Is Robinhood Right For You?

How experienced are you with investing and how much are you willing to lose? If you want to build long-term wealth, be patient. Should you decide to use Robinhood, make sure that you can really commit to learning how everything works. However, you need to also remember that Robinhood isn't really a money-making tool. They do not provide a lot of resources for first-time investors, so it's your responsibility to proactively learn how to invest in stocks.

Talk to experts and read helpful resources. Use a simulator and get started only when you know how to properly do it.

Like all other investment tools, it's possible to gain and also lose. Be careful and use your money wisely.

Understand how Robinhood works and how to use it for investing stocks and cryptos. This article discusses the pros & cons, as well as the risks involved.

//php comments_template();?>