The Ray Ban Stories Wayfarer glasses are packed with convenient, accessible and smart features! In this article, I'll give you a complete overview of the must-have brand's connected glasses, as well as all these features.
You will also find the advantages and disadvantages of this model. Also, check out my review of this model so that you can equip yourself with style and elegance!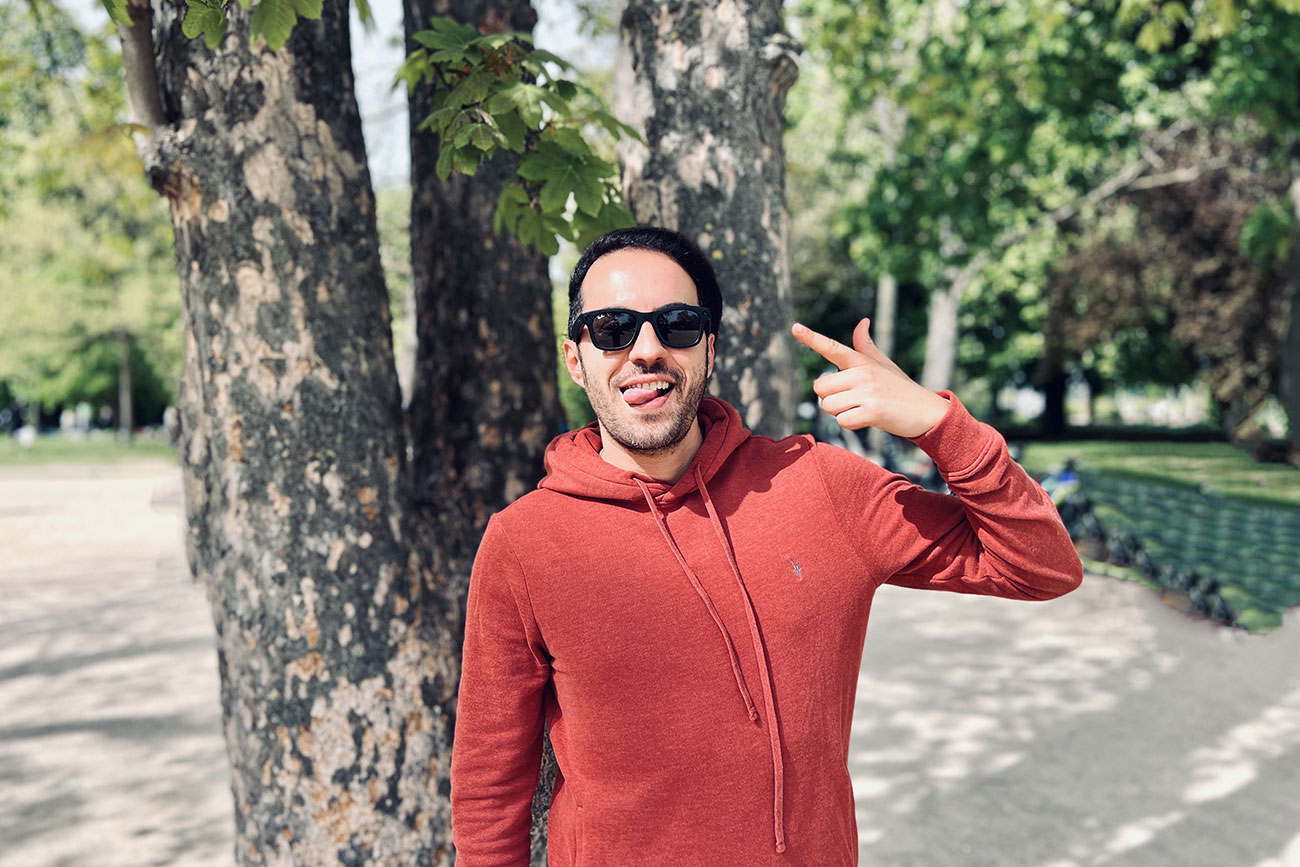 About to the Ray Ban Stories Wayfarer
Ray Ban crosses generations and surfs undoubtedly on all the waves in terms of trend. After the iconic models of the brand, here are the Ray Ban Stories Wayfarer in partnership with the social network Facebook. Smart glasses that integrate in their frame all the avant-garde technology of connected objects.
From a touchpad positioned on each side of the temples, you can :
take pictures
record videos
listen to music
make and receive calls
Thus, while keeping an elegant and retro style, you have on your nose a concentrate of modernism and innovation.
Technical characteristics of Ray Ban Stories Wayfarer
The Ray Ban Stories Wayfarer connected glasses keep the timeless lines of the brand. With, this time, 2 cameras of 5 megapixels each, with an automatic brightness adjustment allowing a stereoscopic depth of shot.
In addition, thanks to an internal memory of 4 GB, you can take up to 500 photos in normal resolution or about 30 videos of about 30 seconds. This feature is pretty handy when you're into immediacy.
With the Facebook View app, you can upload your photos and videos from your glasses to your cell phone to share your memories directly on Facebook, Instagram and anywhere else you want, magical right? It's a bit like Snapchat glasses but much more advanced, plus the app allows you to edit and adjust your photos.
The various notifications you receive directly on the inner sides of the glasses are clear and sharp enough not to impair your visibility. And with compatibility with Android 8.1 and iOs13 operating systems minimum, you have the ability to connect your Ray Ban Stories Wayfarer glasses to a voice assistant. This can make it easier to use your gear and make the most of its full technological potential.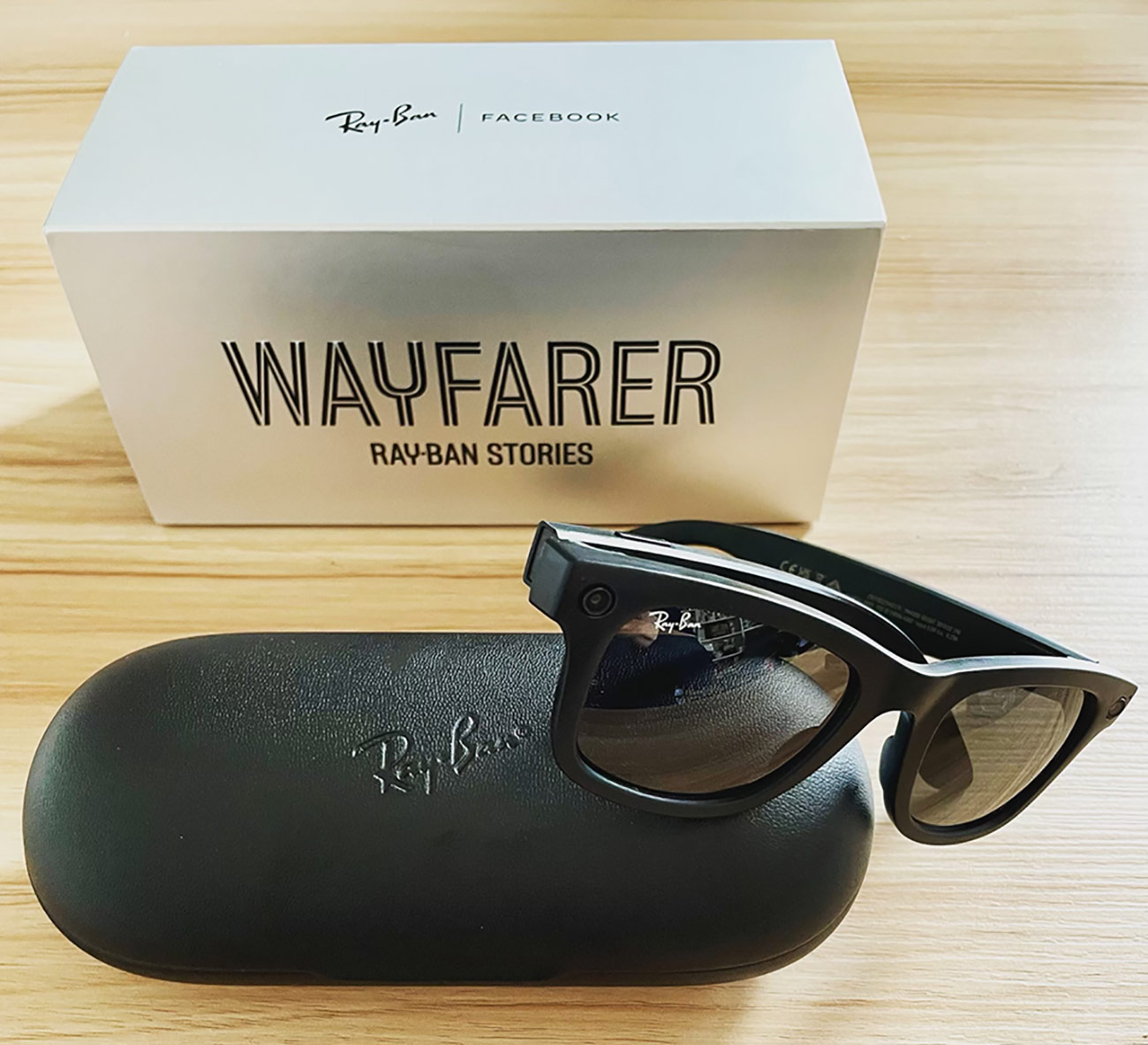 Among the highlights of the Ray Ban Stories Wayfarer is the battery life of up to 6 hours with a full recharge in 60 minutes. In addition, the glasses come with a hard case and fully rechargeable in 180 minutes.
As for the comfort of the Ray Ban Stories Wayfarer, the lenses are equipped with 100% UV protection. But also, the sunglasses offered in this collection also meet all your comfort needs. For example, your Ray Ban Stories Wayfarer can be equipped with lenses with Blue Light, Grey Gradient Polarized or Blue Polarized filters.
On each of the temples, you have a touchpad that will allow you to control all the features of the Ray Ban Stories Wayfarer. The speakers and microphones are located at each end of the branches.
Pros and Cons of Ray Ban Stories Wayfarer
Pros
For a price proposed by the brand at 315 euros, the Ray Ban Stories Wayfarer have many advantages:
First of all, this model remains perfectly faithful to the curves designed by Ray Ban since its creation. So, if you are already a fan of the range, I find that Ray Ban Stories Wayfarer are completely in the air of time.
Secondly, the frame that embeds all this connected technology on it is very intuitive. The touchpad embedded in the temple is easily accessible and the notifications on the inside of the glasses are clearly visible.
In addition, the multiple features offered by the Ray Ban Stories Wayfarer are all useful. Finally, the biggest advantage of this model of connected glasses is its storage capacity with a built-in memory of 4 GB.
Cons
While the Ray Ban Stories Wayfarer check all the boxes when it comes to must-have connected items, there is however one drawback. The speakerphone mode does not allow for an intimate phone conversation. However, nothing prevents you from switching the call to your mobile to preserve this privacy!
Ray-Ban Stories | Wayfarer Square Smart Glasses, Shiny Black/Green, 50 mm
Ray-Ban Stories frames cannot be replaced with prescription lenses and attempting to do so will invalidate the warranty.
RAY-BAN STORIES: The new way to capture, share and listen. In partnership with Meta, discover our first generation of smart sunglasses and eyeglasses that keeps you connected.
POLARIZED LENS: Delievering a true-to-color environment, Ray-Ban Polarized lenses block at least 95% of reflected light, virtually elimanting glare and increasing visual clarity.
CAPTURE THE WORLD AS YOU SEE IT: Take photos and videos hands-free and stay immersed in the moment with the dual 5MP camera. It automatically adjusts to the light around you for high resolution photos and quality video for up to 60 seconds.
SOUND IT OUT: Discrete open-ear speakers with 3 built-in microphones capture sound in all directions so you get rich voice and sound quality for calls and videos.
Last update on 2023-12-03 / As an Amazon Partner, I make a profit on qualifying purchases./ Images from Amazon Product Advertising API
Bottom line

My review of the Ray Ban Stories Wayfarer is more than satisfactory! Eyeglasses that live up to the quality of the brand perfectly highlight the style that Ray-Ban has been designing for decades.

In my opinion, this model is a must-have for your men's wardrobe if you are a fan of new technology. Not only because the model itself naturally fits all face shapes, but also, and more importantly, because these glasses really contain a technological concentrate that gives you a decidedly fashionable look!

Despite all the possibilities that these glasses offer you, they remain very light to wear. Moreover, I advise you to make sure that you always store them in the original case. First of all, to be able to recharge them and use them again in good conditions, but above all to protect the whole system contained in the connected glasses. By taking these few precautions, you are assured and guaranteed to keep your glasses in good working order and to extend its life.

In any case, I highly recommend this Ray Ban Stories Wayfarer model if you're the kind of person who shares a lot on social networks, especially for a price that aligns perfectly with the competition.

The Ray Ban Stories Wayfarer are smart and connected glasses. Check out a full test, features and our review of the Stories Wayfarer glasses!