With the holidays just around the corner, giving a wristwatch as a holiday gift presents a unique set of challenges, including how to select the right watch size for the wearer's wrist.
There is no such thing as a one-size-fits-all watch when it comes to purchasing a timepiece. Whether or not a watch is worn on the right wrist or the left wrist, and how active the wearer plans to be while wearing the watch, all of these factors matter.
If you are buying a wristwatch as a gift or for yourself, you will want to know how to pick the best one for the recipient, and that will mean taking wrist size into consideration.
It is important to remember that while some watchmakers are more than happy to offer you a scale or a measuring tape and a set of rules they claim are the correct rules for sizing a watch, there really aren't any universal rules or calculations for finding the correct wristwatch for your particular build.
What matters most is that the watch doesn't feel too tight, but also doesn't slide around. Additional considerations include the design, the casing, and the thickness of the band. Here are a few things to keep in mind when shopping for a new watch:
Learn how to measure your wrist
When it comes time to choose a watch design or type of band, wrist size is one of the most critical aspects of the process. If the wrist measurement of the wearer is not done properly, everything else will not fall into place. A measuring tape, string, or a piece of paper can be used as a starting point.
Wrap the piece around the wrist where the watchband will rest, which is usually just below the wrist bone for most people. The end of a paper strip should be marked with a pen if it is being used, where it comes to rest against itself around the arm. This can also be marked on a piece of string. After unwrapping and flattening the measuring tool against a ruler, take a reading. Under 16 cm is considered very thin, 17 to 18 cm is considered medium, and anything over 18 cm is considered a thick wrist for most people.
Knowing your wrist size and whether it is thin or thick will help you choose the best wristwatch for your preferred shape and size. If at all possible, try on the watch to see how it looks and feels on your wrist before making a purchase. You will want to choose a timepiece that you can see yourself wearing every day.
Watch Case
As the name suggests, this is the exterior of the timepiece that protects the face and internal mechanisms, which can come in a wide variety of styles and forms. The diameter of the watch casing is one of the most important factors to consider, as men's watches typically measure 38 to 46 mm, which is usually too large for a woman's wrist. A 38 mm or 42 mm watch case would be ideal for someone with a slim wrist. Choose a watch with a case that feels good when it is worn, as well.
In addition, the thickness of the casing is important. You don't want a case that is too thick and protrudes above the wrist, so the thickness should increase with the case's diameter. A wristwatch with a 38 mm case and a thickness of 7 mm would be a good example.
Watch Band
In terms of watch bands, there are no shortages of options available online, and some are even custom-made by artisans on Etsy for specific timepiece models. When you choose a watch band, there are some things to keep in mind, such as the width of the band. You will need a watch band that is about half the diameter of the case to get the look you want. An 18 mm case would best fit a watch band with a width of between 9 and 11 mm. However, even if you stick with this design, if you have a slim build, you might prefer a thinner band.
It is important to think about the wristwatch band's material in addition to its size. It is preferable to use metal bands on heavier and thicker timepieces, as they are more durable. Slender wrists, however, look and feel better with leather bands or other materials that are not made out of metal.
Vincero's Apex is a good example !
The Apex by Vincero is a great option if you are looking for a men watch that's both stylish and functional for a large wrist. The Apex is a fine example of why the brand does well in marketing itself as a timepiece with an eye toward adventure and a no-nonsense approach to timekeeping. For a well-made men's timepiece, it costs around $225, which is a reasonable price. Designed for professional and active men, it comes in a variety of colors and band materials.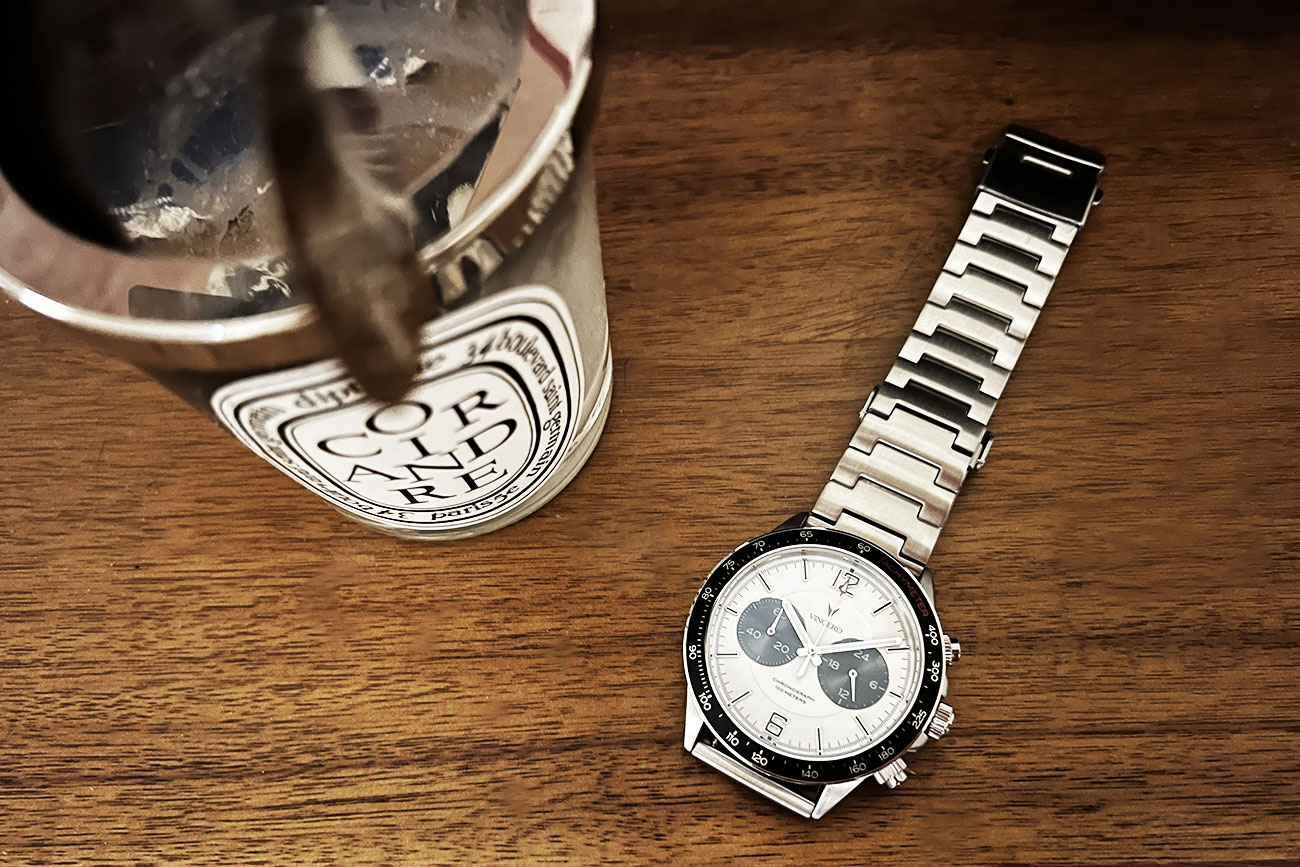 There are two chronograph subdials on the face in addition to the Swiss movement, water resistance of up to 10 feet, and a tachymeter on the outer bezel. It is built to last a long time and is made of high-quality materials. It has a look that says it's made to withstand the rigors of daily use while still looking stylish and refined. On the basis of the sizing information above, this men watch is best suited for people with wrists that are at least 18 mm wide.
Check out Vincero's Apex and the rest of their collection here !
Make a decision

The type of shirt cuffs a person wears, or the type of activity they partake in, should be taken into consideration when selecting a wristwatch as a present or for yourself. Wearing a certain type of watch may be detrimental to a person's particular style or activity if not properly chosen. It's also important to choose a watch design that complements the wearer's personal style and their active lifestyle, so you don't end up with a bulky brick that looks out of place on the wrist.

Need to choose a watch ? To find the perfect size within your range, use your wrist measurement ! Let's see how !