Google Flights is a brilliant tool for researching and tracking flight prices, making it an indispensable tool in your travel planning and budget management arsenal.
A popular flight comparator, Google Flights has been a trusted companion for travelers for many years.
In this article, we'll look at why Google Flights is an indispensable tool, highlighting its value and how to use it effectively. Alongside other travel planning tools such as Skyscanner, Expedia and Booking, Google Flights plays an essential role in the search for the best flight deals.
Why Google Flights is your best resource ?
When it comes to booking flights, Google Flights should be your first port of call. It stands out for the fact that it lets you compare fares across a wide range of dates, offers fare-tracking functionality and offers many customization options that you won't find on online travel agency or airline sites.
It's important to note that Google Flights mainly aggregates information and, in most cases, refers you to the websites of airlines such as Air France or Delta Airlines, or sometimes to online travel agencies for booking. However, I recommend booking directly with the airline in almost all cases, to simplify any flight changes or schedule adjustments, and above all to guarantee your mileage earnings!
Google Flights for a comprehensive comparison of airfares
When you arrive at Google Flights, you'll find an easy-to-use interface, similar to that of most online travel agencies. You can enter the origin, destination and date of travel, choose a one-way or round-trip ticket, specify the number of passengers and select the booking class (economy, premium, business or first).
Google Flights is distinguished by the price calendar displayed on the results page, allowing you to view options for two months at a time and even explore an entire year's prices in a specific market in the space of a few minutes.
The "best flights" are presented first, taking into account factors such as price, convenience and overall value.
In addition, Google Flights provides detailed information on each flight option, including hand luggage allowance, seat spacing, Wi-Fi availability, in-seat power supply, USB sockets, and much more.
Google Flights offers powerful filters to refine your search by number of stopovers, airlines or alliances (Skyteam, One World or Star Alliance), baggage inclusion, price range, flight times, connecting airports and duration. Although it doesn't directly filter basic economy fares, you can exclude fares without hand baggage, which generally cover the most restrictive basic economy fares.
These filters also apply to the calendar function, which lets you easily find the cheapest non-stop flight on a specific airline, at a specific time of day, throughout the year.
When selecting a flight, Google Flights indicates whether the fare is normal, cheap or relatively more expensive than normal, based on historical data, although airline pricing is influenced by many factors.
Explore flexible destinations with Google Flights
For travelers keen to explore different destinations, Google Flights offers a flexible approach. You can search for flight tickets from a specific departure point to an entire country or even an entire continent. For example, you can set New York as your departure point and then define the whole country, Germany or the European continent as your destination, giving you a map with many possibilities.
If you have specific destinations in mind, but would like to compare several airports, Google Flights takes care of that too. You can enter multiple origin and destination airports, making comparison easy.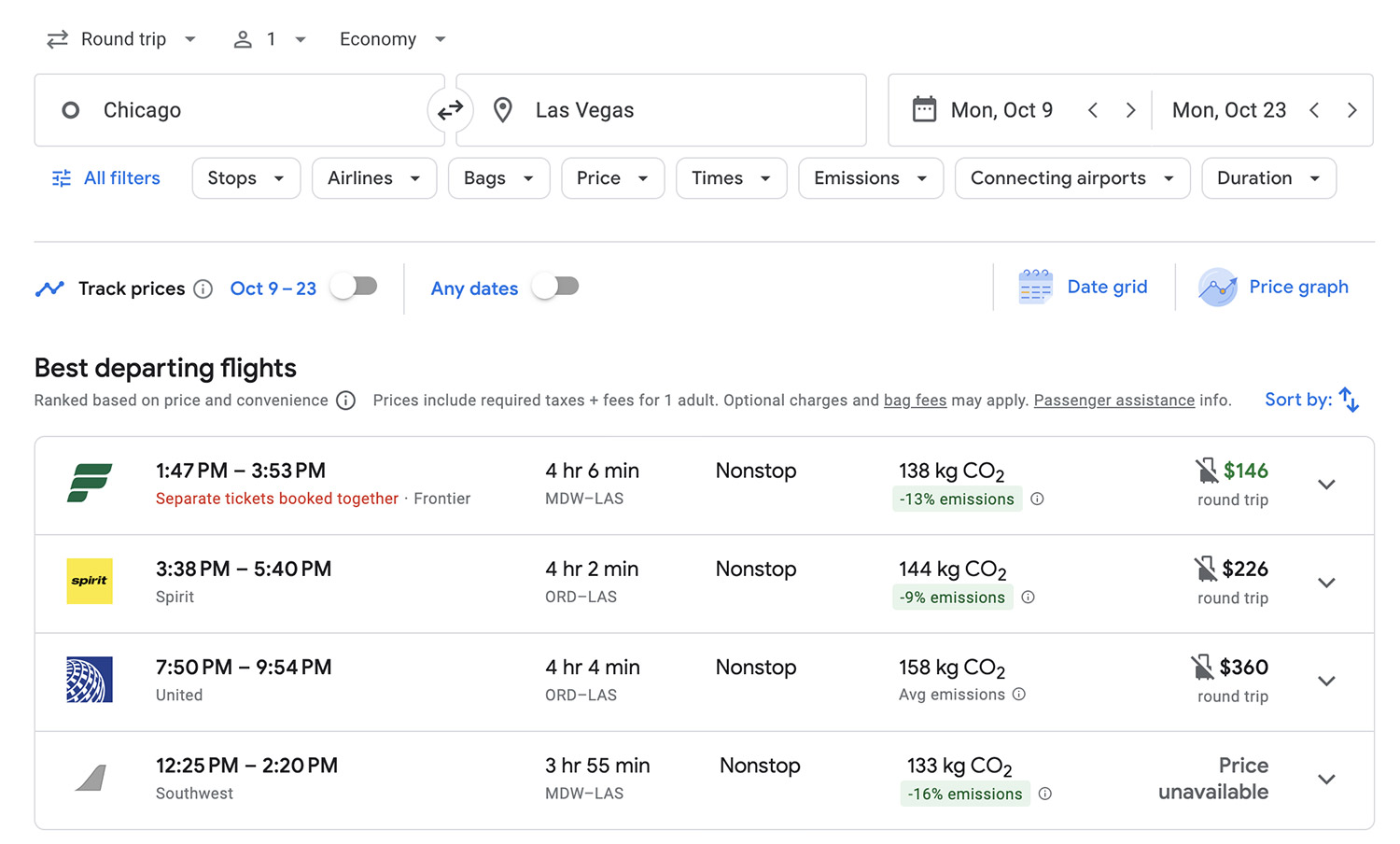 If you don't know where you're going, you can also enter your departure city, choose a date and leave the final destination blank. Google will display all flights and their prices from your departure point, ideal for discovering cities you hadn't thought of!

And then the results :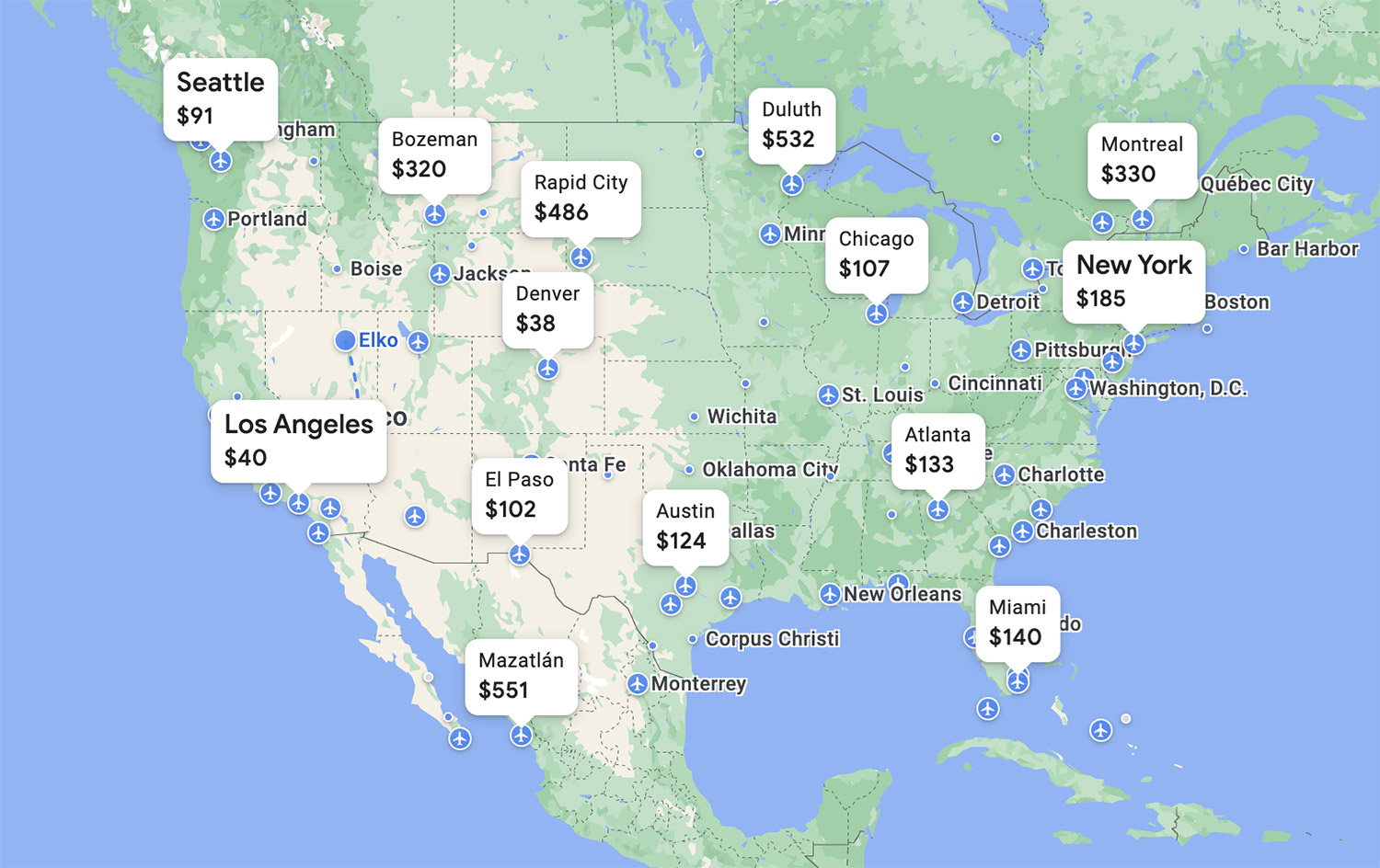 Track flight prices with Google Flights
ne of the most remarkable features of Google Flights is its ability to track flight prices, which serves two main purposes:
It's useful if you want to monitor price drops on a specific flight before you book it.
It's also useful if you've already booked a ticket with an airline that doesn't charge change fees, as you can change the price of your flight and receive a voucher for the price difference.
For example, if you're considering a Delta Airlines first-class flight from Los Angeles to Paris next summer, you can follow the fluctuations in its price. Even if these tickets are offered at less than 500 dollars a few weeks before departure, they may be offered at over 1000 dollars several months later. By clicking on the "Track prices" button, you'll receive e-mail notifications of fare changes, and you can set up multiple alerts.
Google Flights also features a dashboard linked to your Google account, allowing you to track price trends.
Bottom line

In conclusion, Google Flights is the ultimate, totally free resource for booking air tickets at the best rates. Its user-friendly interface makes price comparisons easy, with options for customizing searches according to different criteria. Enjoy your trip!

Discover top tips and tricks on Google Flights: Your complete guide to finding budget-friendly flights and unbeatable deals!