Christophe Robin, born in 1971, has become the appointed colorist for many movie stars. A true color expert, he doses the dyes with great care for a perfect finish with worked reflections.
Colorist magician since his childhood, he will then release a whole range of care and shampoos for women, but also for men. Based on my experience, I am going to present one of his latest creations: the Thickening Washing Paste with Pure Rassoul and Tahitian Seaweed.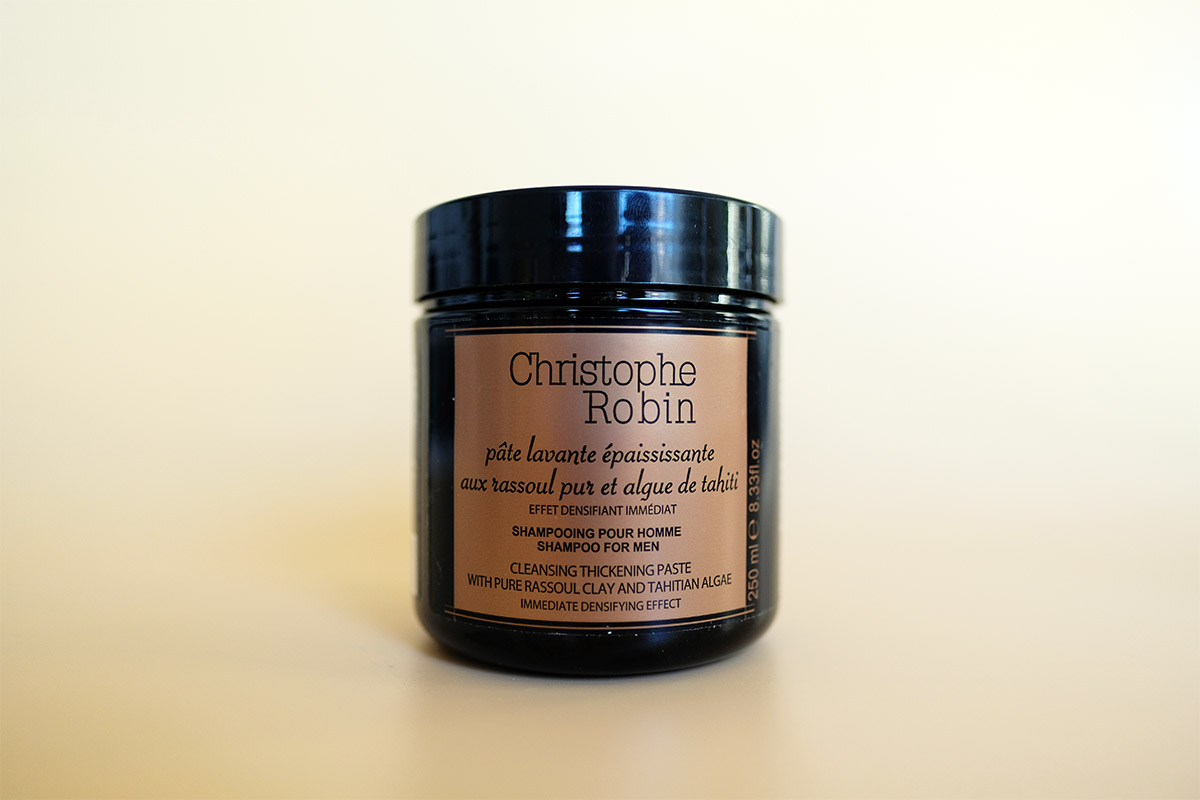 What is rassoul?
Literally, rassoul means "earth that washes". It is found in the Middle Atlas region of Morocco. It is a kind of clay coming from volcanoes. In fact, it is commonly used in the preparation of shampoo paste.
Unlike most traditional shampoos or soaps, rassoul is devoid of any surfactant. Thus, it cleans your hair by absorbing impurities, dirt and grease. And the hydrolipidic film is not attacked and the sebaceous glands are not irritated.
So this clay powder has been used for centuries for hair care. Women have always used it to wash their hair and give it volume without damaging it.
Very early on, they understood that clay, whether green or white, has absorption qualities, especially on impurities and toxins. So rassoul, a clay mineral, very rich in mineral salts, has the same properties on hair.
So, it is recommended especially for oily hair since it has the ability to regulate sebum. But it is particularly indicated and recommended for fine hair, because it sheathes it, as it does for a color. Thus, the volume of the hair is clearly increased.
What is this Tahitian seaweed?
Tahitian seaweed, like many seaweeds, is rich in vitamins, minerals, iron and even proteins. Indeed, pollution and junk food can cause hair problems. Therefore, Tahitian seaweed is a precious help for our hair, it will enable it to provide keratin.
In addition, the hair is strengthened and grows back faster. Its antioxidant properties delay hair loss, the onset of gray hair and the proliferation of dandruff. Finally, the scalp sees its cellular renewal promoted thanks to this Tahitian algae.
In addition, this algae from Tahiti contains many vitamins that are essential for our hair and skin. It is especially rich in vitamins B (B6 and B12), which are vital to combat hair loss while strengthening hair. In addition, it also contains vitamin A, especially indicated to repair damaged hair.
Finally, this seaweed is particularly rich in zinc, an indispensable trace element for hair. It has the power to store keratin and collagen for the formation of hair fiber. Clearly, zinc increases hair strength and slows down hair loss.
Last update on 2023-11-28 / As an Amazon Partner, I make a profit on qualifying purchases./ Images from Amazon Product Advertising API
How does Christophe Robin Thickening Wash Paste work?

The combination of pure rassoul and Tahitian seaweed has given birth to a shampoo with formidable virtues. It is particularly suitable for men with fine hair or men who are beginning to "refine" their hair.

It is presented in the form of a paste containing "95% natural ingredients" and is highly concentrated in pure rassoul. In fact, its clay aspect allows it to cleanse the scalp by absorbing impurities and grease. Then, it quickly gives tone and vitality to the hair from root to tip. Tahitian seaweed, rich in vitamins and zinc, provides densifying qualities and revitalizes the hair.

I find it very simple to use: simply spread a small amount of this wonderful paste on wet hair, massage gently by lifting the hair, then rinse thoroughly.

Anyway, a study shows that 91% of men notice that their hair is thicker, denser the first time they use it. I should mention that this product does not contain any ingredients of animal origin.

The shampoo Christophe Robin Pâte lavante thickening with pure rassoul and Tahitian seaweed, a solution to redensify his hair.