With its fresh, bright, salty scent, amazing texture and formula free of silicone and other chemical compounds, Christophe Robin once again offers an exceptional product for those who want to purify, moisturize and soothe their oily and sensitive scalps.
Awarded in 2019 with the Best of Beauty Allure Award, this shampoo like no other, used as a treatment cleanses deeply and calms the tingling and itching caused by aggressive coloring. Come on, I invite you to discover a nugget, an essential that will soon occupy the very first place in your hair routine.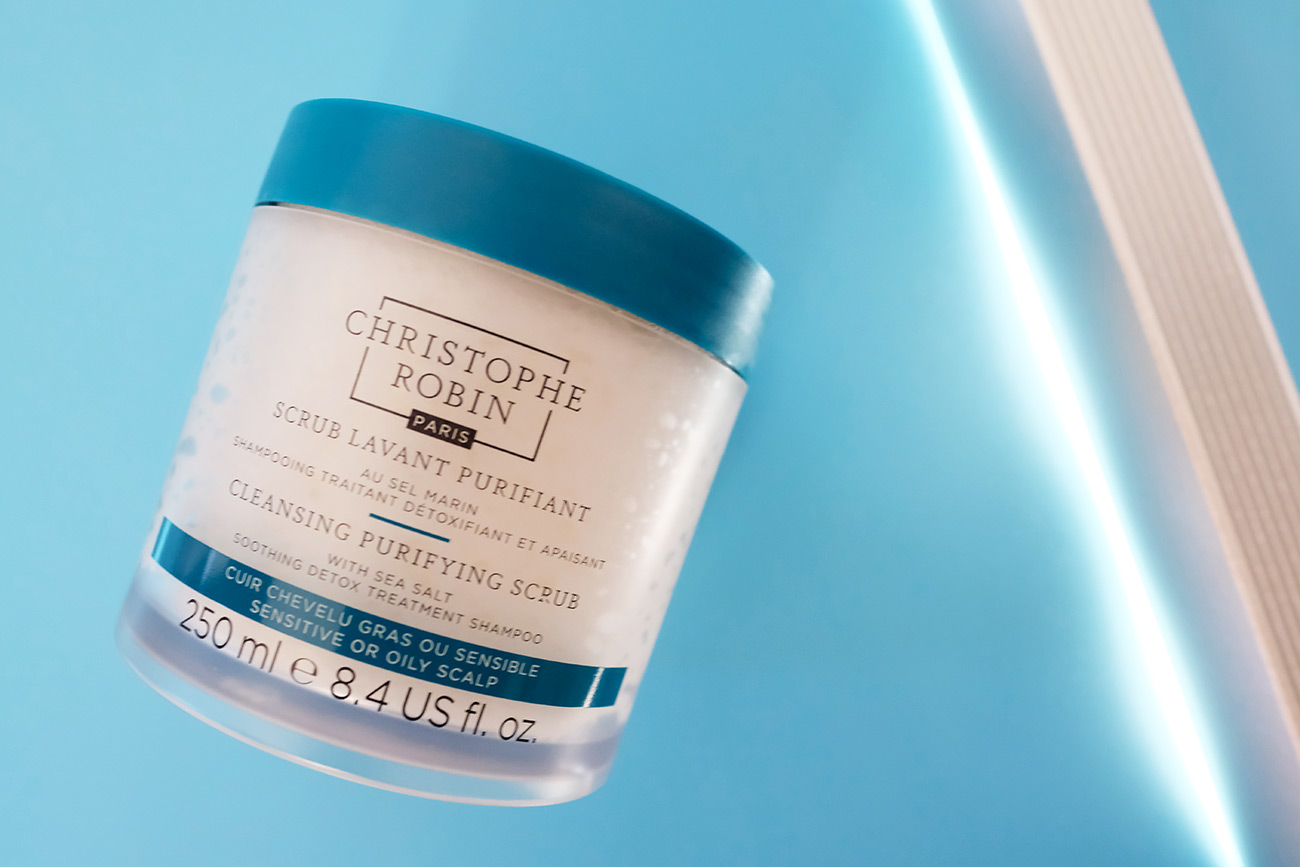 Christophe Robin, the authentic craftsman of the hair
The reputation of the Christophe Robin hair care brand is well established. For more than 20 years, this internationally renowned colorist has been shaking up codes by creating innovative formulas based on natural products that he offers to stars and top models. From Catherine Deneuve, whose blond hair he created, to Laetitia Casta, Claudia Schiffer and many others, they all entrust their hair to this virtuoso without hesitation because they know that only he will know how to sublimate it.
Although he is a must in the fashion and film worlds, he has set up a salon specially dedicated to hair coloring in the 2nd arrondissement of the capital to, as he says, take care of all women who want a perfect, subtle and balanced color.
At the same time, the artist devoted himself to the development of a line of unisex hair care products without parabens, silicones or SLES or sodium laureth sulfate, an ethoxylated surfactant known to irritate both the skin and the eyes. Over the years, the packaging has evolved without changing anything about the elixirs that have been so popular with customers.
Exfoliating your scalp, the detox treatment
Just as we like to rid our bodies of dead cells, the scalp is no exception to the rule and I can tell you that you'll be surprised to see how much this regular practice changes the game, a perfect hair care!  The constant use of products such as serums, sprays or gels tend to clog the follicles, or hair bulb. It is precisely in this bulb that the hair develops and grows at the root of about 1 centimeter per month.
Unfortunately, the chemistry contained in these compositions disrupts its growth; exfoliation therefore allows for a complete cleansing so effective that you can no longer do without it. Thanks to this cleansing using the principle of massage, blood circulation is encouraged and stress is reduced.
When and how to use it?
To begin with, I would like to remind you that this is a very good shampoo for normal hair for men. As its name indicates, this scrub allows you to scrub your scalp. Presented in a 75 ml jar that you can easily put in your toiletry bag, it has a thick texture like a paste, with small grains of sea salt to gently remove chemical residues. (It is also available in 250 ml format).
Once every 5 shampoos, and in replacement of the latter, you will take the equivalent of a tablespoon and apply it to your wet hair. Then you will gently massage them by practicing circular movements with your fingers. Finally, just add a little water and the Scrub will quickly turn into a light and wonderfully scented lather. All that's left to do is rinse your hair thoroughly.
Sale
Christophe Robin Cleansing Purifying Scrub with Sea Salt 250 ml | 8.45 Fl Oz | Scalp Scrub Treatment | Cleanses and Removes Impurities from the Scalp
The cleansing purifying scrub with sea salt is ideal as a detox treatment as it cleanses, purifies and restores balance to sensitive or oily scalps.
It can also be used as a post-colour treatment to sooth tingling and itching sensations.
Christophe Robin is a haircare brand that centres the importance of revealing beauty through enhancing your natural qualities
Formulated with Sea Salt and Sweet Almond Oil, we love how this purifying scrub soothes the scalp, refreshes the hair, and restores optimal hydration levels.
Sea salt is an effective natural exfoliator that cleanses, removes impurities and restores balance to the scalp.
Last update on 2023-11-30 / As an Amazon Partner, I make a profit on qualifying purchases./ Images from Amazon Product Advertising API

Once your hair is dried and styled, you'll notice how the Christophe Robin Sea Salt Purifying Scrub Wash makes it soft, airy and voluminous. A real discovery and I have a feeling you'll love it!

Want to know everything about Christophe Robin's Purifying Sea Salt Scrub? In this article I explain why you won't be able to do without it!