Whether due to baldness or cranial trauma, it's possible for a large or small area of the head to become bald, and for the hair that has fallen out to stop growing back. This natural phenomenon can be a source of complexes for both men and women.
Hair transplants are a growth sector in plastic surgery, with a boom over the last five years. Thanks to increasingly advanced techniques, hair transplants leave fewer scars than ever before. However, if your scars are too visible, here's how to hide them.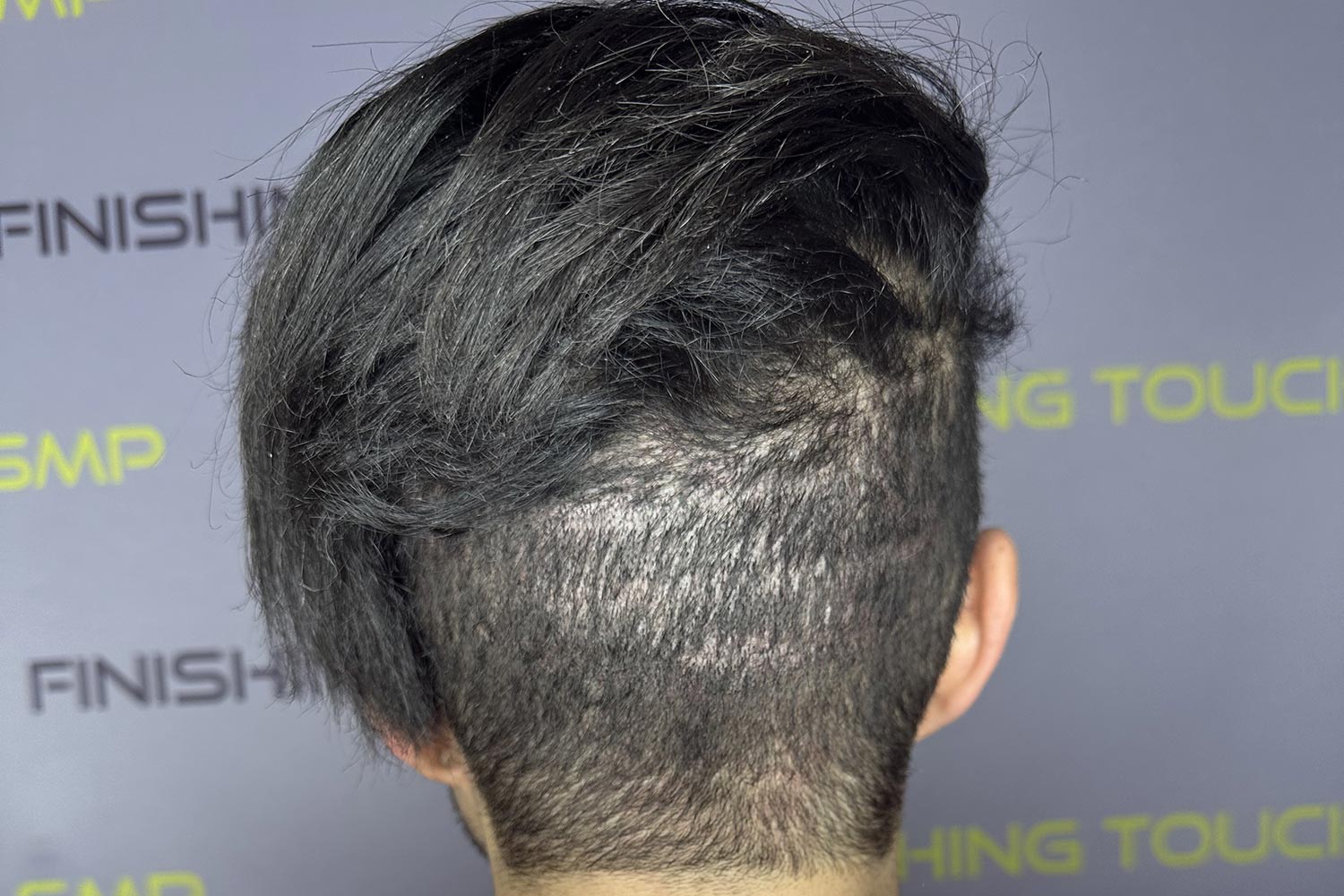 What is a hair transplant?
The principle behind hair transplantation is simple to grasp: it involves removing hair (grafts) from the crown area at the back of the head, and re-implanting them in balding areas. In the past, to obtain the grafts, it was not uncommon to harvest an entire band of hair. Unfortunately, this practice was quite unsightly, as it could leave a large scar at the back of the skull.
Today, hair-by-hair harvesting is preferred. This is known as micrografting. This cosmetic surgery enables you to regain a natural head of hair, since it's made up of your own hair. However, it requires several sessions to complete, and you need to wait for the hair's normal growth cycle to see the first results.
These hair transplants can complement, or even completely replace, simple procedures such as baldness reduction or hair flaps. Despite very rapid and convincing results, the scars left by the procedure are quite unsightly.
Why have a hair transplant?
Hair transplants aren't just for balding heads and other bald spots. Implants can also be used to add volume to hair that's too flat, or to correct an uneven hairline.
Hair transplants deliver a natural result, so that both men and women can relax about their hair. Since your own hair is implanted in the required areas, there's no risk of rejection or special treatment after the transplant. What's more, the result is permanent. Hair transplantation can literally boost your self-confidence.
What are the risks of a hair transplant?
As with any surgical procedure, hair transplantation can also entail risks. Indeed, there can be risks of infection. That's why it's a good idea to find out all you can about the clinic and the practitioner before undergoing hair transplant surgery. Even at the time of the transplant appointment, you can refuse if the hygiene and premises seem questionable. Since your own hair is removed from your scalp, there may be some bleeding during the operation.
Hair transplants can be quite painful, so the practitioner may give you a local anaesthetic to ease your discomfort. The risks of this anesthetic are the same as for all types of sedative. Be sure to tell your doctor about any medical conditions or antecedents that may interact with the anesthetic.
Last but not least, the risk of visible and permanent scarring cannot be ruled out when harvesting grafts.
Grafting and scars: how to hide them?
Fortunately, with major advances in grafting technology in recent years, the risk of unsightly scars is increasingly low. In the case of existing scars, it is possible to use reconstructive techniques.
Resection-suturing
In this technique, the visible scar is excised and a new, thinner, more discreet scar is created. The final result of this operation will only be effective after several months of healing. However, depending on the individual, this method may not be the most suitable.
Micro-tattooing (SMP or scalp micropigmentation)
As the name suggests, this involves camouflaging the existing scar with a tattoo. Medical pigments are used to attenuate the scar without totally concealing it. An alternative is the use of resorbable, semi-permanent pigments. Drawn as small dots, they can reduce the whiteness of your scar to conceal it in the hair. However, this procedure is not definitive and must be repeated every year, as the micro-drops of ink tend to fade over time.
Hair transplant on the scar
This third technique is highly effective for naturally concealing the scar, since it will be covered by your own hair grafts.
Bottom line

Before undergoing any procedure, it is advisable to examine the merits of your desire to undergo cosmetic surgery. Bear in mind that any medical procedure can entail risks, so a well-considered decision is the best way to get rid of your complexes and scars.

Hair transplants: How to hide scars in the back? Find out everything you need to know to make the right choice.