I recently switched to Aspiration bank, and in all honesty, it was strictly for mercenary reasons: They offered me money to try their free bank account ($150). I did a little research on the company, and the following is the Aspiration review information I discovered.
Who Is Aspiration Bank?
The idea for the company began in 2013 and came to fruition in 2015 as an environmentally responsible company that aims to lessen our impact on our world while appealing to a broad range of banking customers.
Each customer receives a monthly personalized AIM score – their acronym for Aspiration Impact Management – to indicate the environmental impact that the customer made recently. They also offer socially conscious investment opportunities and, at the moment, are offering a refer a friend bonus. When you refer a friend, you get a bonus as well.
They were offering a bonus when I signed up, and I was able to get a friend to sign up. We both will get the money in our accounts within a couple of weeks ($50 each one, see restrictions when referring). I have used their customer service support by email a couple of times and always received friendly, courteous service. Weekend emails to customer service were responded to promptly and were helpful.
Aspiration has won awards for best checking account, most innovative company, and best socially conscious company. Although I'm not a tree-hugger, I believe we should be mindful of the impact we make on our planet and minimize it whenever possible.
Since this all sounded good to me, I opened a free bank account.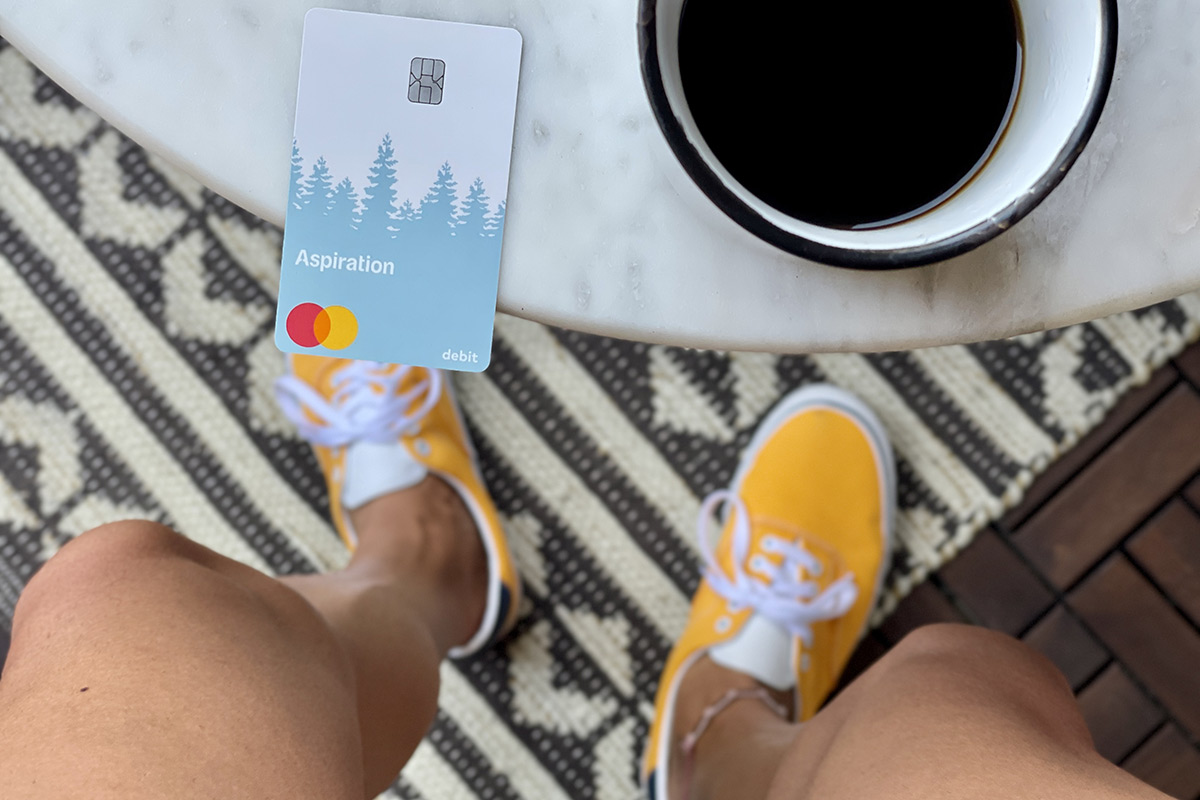 How Do You Open An Account At Aspiration Bank?
The initial process was fairly simple and went as follows:
How To Open
You can open your account online or download the app and open your account through it. It's the standard procedure for opening any bank account, so you'll need to prove who you are. It's actually a much simpler procedure than it was with the brick-and-mortar bank I recently left.
Identification
You'll need to have a copy of your state-issued identification to open your account, so you'll have to scan it in or take a legible picture and upload it.
Citizenship
You need to be a U.S. citizen or permanent resident over the age of 18 and must reside in the U.S., Puerto Rico, or the U.S. Virgin Islands. You must have a 10-year green card; the 2-year card won't work. Since I had an American bank account already, I didn't have to prove citizenship. They may require a birth certificate for some customers, but I don't know that as a fact.
Credit
Aspiration doesn't run a credit check when you open your account. Since they're a cash management account offered by a dealer-broker rather than a chartered bank, they're not on ChexSystems either.
Funding
The minimum needed to open your account is 10 dollars, but you need to have another bank account to fund your deposit. Otherwise, you have to purchase a money order and then deposit the money via the mobile check deposit function.
Holds
With some exceptions, mobile deposits are usually available within one to two business days. If they need to place a hold on your deposit, it will usually last from two to seven business days, and you'll be notified via email if there's a hold and the reason for it.
Direct Deposits
Deposits made Monday through Friday before 5:00 PM Central Time are credited to that day's transactions. Deposits made after 5:00 PM Central Time will be credited to the next day's transactions. A direct deposit from your employer is the easiest way to keep your account funded.
Does Aspiration Keep My Money?
Aspiration Bank assigns your money to one or more of their priority list of banks rather than keeping the funds in their account.
Their priority list of banks includes:
Bank of New Hampshire
Bremer Bank, NA
Bridgewater Bank
C3Bank, NA
Coastal Community Bank
Eagle Bank
Freedom Bank of Virginia
Ion Bank
Manufacturers Bank
Nano Bank
ProgressBank
Debit cards are issued by Coastal Community Bank out of Washington State.
This list may change periodically, and I wondered why many of these banks were on the East Coast when the company is headquartered in Southern California. If you don't want your money held in any of these banks, you can let them know. There's another list of priority banks for those whose deposits exceed the FDIC insurance limit of the standard priority banks.
Using Your Account
Once your deposit has cleared, your free bank account is funded, and you can use it. You'll receive a plastic debit card in the mail, but you'll also receive an e-debit card that you can use for online purchases and at the various online payment systems such as Google Pay, Messenger, and the like, as well as at brick-and-mortar stores.
Withdrawing Money
Although Aspiration doesn't have unique ATMs, you can withdraw cash from millions of ATMs worldwide. Many are located inside drug stores or other types of retailers, which I find a definite plus. There are no fees for foreign ATMs, and if you do get charged, they'll refund the money.
Are My Deposits Insured?
Deposits are insured up to $2.46 million per depositor, and $246,500 per Bank.
How Do I Deposit Cash?
At this point, Aspiration doesn't accept cash deposits, but that may change in the future. If you need to deposit cash, then either buy a money order or have a friend or relative write a check to you and give them the cash. You can then deposit the check or money order using the deposit check function.
Bill Pay
Aspiration Bank has a basic bill-pay function, but the first time I used it, the utility company returned the check to the bank. The memo field is limited, so it might not have been big enough to accommodate the entire account number. This meant I had to pay a fee to make an online payment at the water utility since my check was returned on the due date of the bill.
Writing Checks
If you choose not to use the online bill pay function, as I have, your first order of paper checks is free and consists of a pad of 25 paper checks that arrive in about two weeks and have a cardboard cover rather than a plastic one.
Overdrafts
Aspiration doesn't allow you to overdraw your account. If a check presents against insufficient funds, it's returned, and they don't charge you a fee, although the payee may.
Monthly Cost Of The Account
Aspiration allows you to determine the amount you'll pay each month, which can be a major benefit for many. I don't pay much for my account but enrolled in the plant-a-tree program, which rounds each purchase to the nearest dollar and plants a tree with those funds.
If you pay for an account, you get cash back on your purchases, interest on your checking account, and other types of benefits, but I just don't use my account enough to justify that.
Overall Aspiration Review
Although I like Aspiration Bank much better than my old bank, there are some improvements that I'd like to see, such as:
Checks
It would be exceedingly helpful to have a check register so that you could know which checks you've written without having to look at each payee. When you write a check, it doesn't deduct the money until the check clears your account. For those who don't monitor their accounts closely or who don't always have an abundance of extra money in their account, this could cause a problem.
Alternatively, debiting the check when it's written – as long as funds are available – would accomplish about the same thing, and it would be no more difficult from an accounting standpoint.
More information space on the check would be helpful since some account numbers are long. It would also be nice to be able to drill down on a check so that you could see the information, whether it's a check you've written or one that you've deposited.
I hesitate to use the "pay bills" function again, lest I have the same problem that I mentioned above and have a late mortgage payment. Therefore, I'm back to writing manual checks for my monthly mortgage payment and my water bill and using the postal service to deliver them.
Stop Payments
There is no option to stop payment on a check once it's been written.
Mobile Pay
Aspiration's interface with mobile payment apps is somewhat limited, or at least that was my experience. It works fine if you add your debit card numbers to the mobile pay apps, but if you want to use mobile pay for utilities and the like, it doesn't work well. At least I couldn't get it to work.
Investments And Savings
One of the many benefits of Aspiration Bank's Spend 'n Save accounts is their higher interest rate and their cash back program. Currently, they're paying 1.00% APY.
Their unlimited fee-free withdrawals ensure that you always have access to your money. ATM transactions have a standard $1,000 daily limit, which is a considerable step up from many traditional banks.
Aspiration users also have many investment options, and you don't need thousands or millions in the bank to participate in them. They invest in sustainable companies that minimize their environmental impact, and you can track the impact of your investment choices.
Ten cents of every dollar they earn goes to charitable activities that help Americans achieve a better life. They call it their "Dimes Worth of Difference" commitment, and it's available to all Aspiration account holders.
Target Audience
Aspiration Bank's many user-friendly features can appeal to users of any age who are moderately computer literate.
Summary Of The Aspiration Review
Aspiration Bank is innovative and user-friendly with many appealing aspects, such as their plant-a-tree option. However, there are a few upgrades that could take it from good to great, such as the issues mentioned above with checks and
mobile pay.
Aspiration Bank has been designed to appeal to a broad range of consumers, from those who are just starting out to those who are investing for their retirement to those who are retired and want to enjoy life. Their concept of paying what you want is appealing to many. The Spend' n Save account can save a lot of money on overdrafts and monthly fees, especially for those who are just starting out or who are starting over.
The higher ATM limit is great for those who occasionally need to withdraw more than a couple hundred from their account but don't carry the balance to warrant that type of limit on their account.
Since they don't charge transaction fees on foreign ATMs, you can access your money at any time or any place.
Try It For Less Than Free

When you open an account at Aspiration, at the moment, you'll get a substantial bonus. Refer a friend, and they'll get a bonus also. It's worth trying because the bank is very convenient. You can close the account if you're not happy, but I'm willing to wager that you'll like it as much as I do.

Just got my Aspiration Debit Card, and decided to publish my full Aspiration Review, all you need to know about this online bank.