You want to please your loved ones while surprising them? Between a too discreet scarf, the latest Goncourt novel or a randomly chosen perfume, these presents have already been offered so many times… It's up to you to stand out from the crowd and come up with an idea that's a little less ordinary. To guide you in your quest, we offer you ten ideas for the most original gifts.
1. Magical, the Homer Simpson sponge holder
Clumsy, shameless and selfish, the most famous father of the family is also the funniest. Created by Matt Groening, Homer Simpson has many fans. A sponge holder decorated with his effigy is not only original, but also very practical. The cartoon character, printed in 3D, is placed on a base which allows to collect water. The kitchen sponge can then be placed on this utensil, at the edge of the sink. For sure, you will love to wash the dishes! On sale here !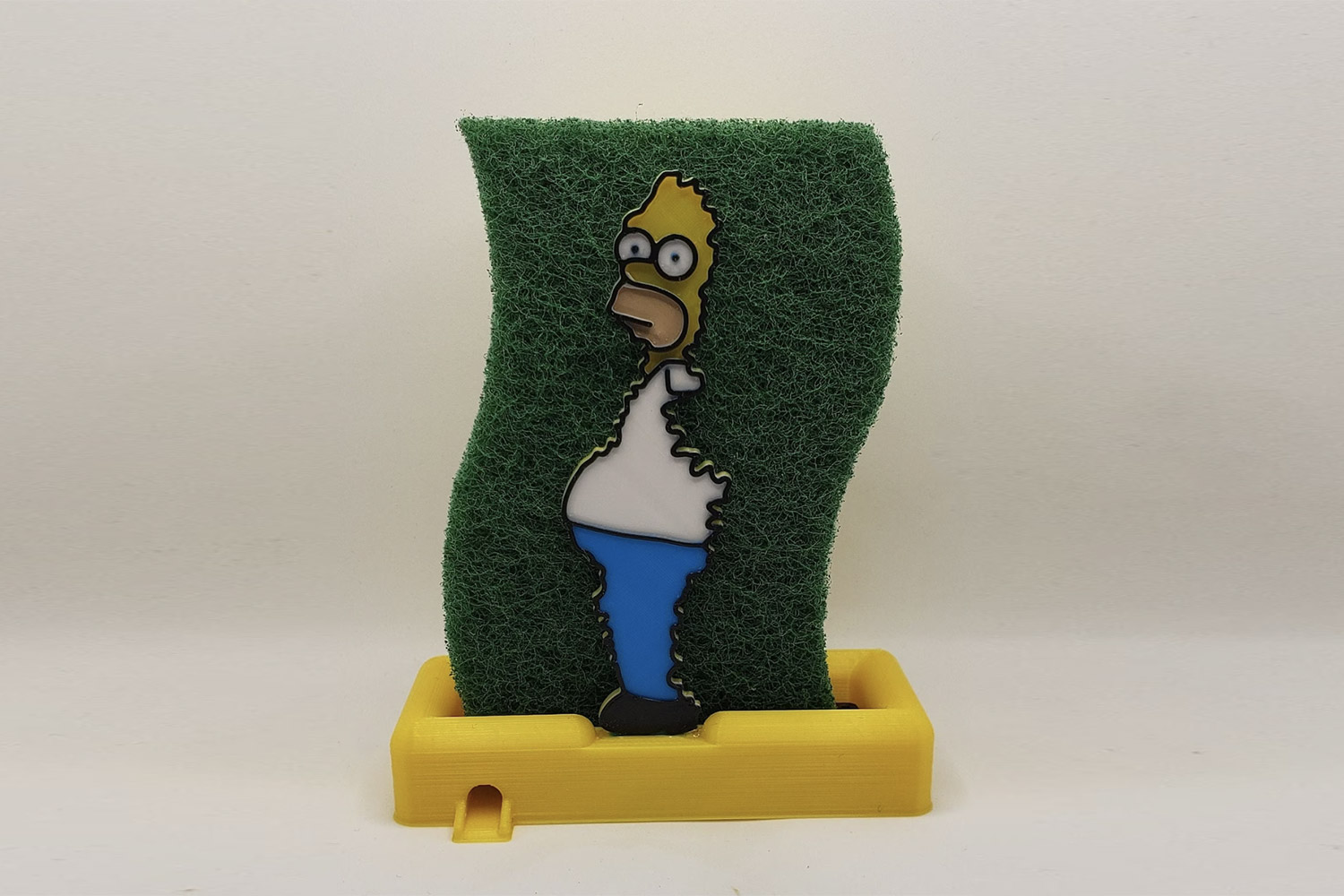 2. An artistic poster signed by a talented illustrator
Very graphic, the drawings of Doctor Paper are representations of French or foreign cities. The illustrator from Nantes draws them meticulously with black ink, taking care of the details.
Among his creations is a poster on the theme of the city of Tokyo. You will be able to distinguish examples of typical traditional architecture as well as more contemporary ones such as the famous tower that dominates the city. If you look hard enough, you will also find the Sega store in the Akihabara district and the monster Godzilla. This poster makes you want to fly to discover or rediscover the Japanese city. You can choose examples of black photo frames to frame it for example and provide a ready-to-use gift.
3. A personalized bowl for pet lovers
Send one or two photos of your dog or cat, specify its name and you will quickly receive a personalized bowl. Indeed, a drawer takes care of making the portrait of the animal. This one, very faithful to the original, is then printed on the dish intended for the food. The name of the animal is indicated next to the image for a funny result. This is an original idea for pet owners, who love to cherish their pets!
Personalized Dog Bowl with Name & Breeds Design - Custom Ceramic Dog Bowls w/Cute Icons, Pet Dish for Dry, Wet Food & Water, Customized Feeding Puppy Bowl Gifts for Small, Medium & Large Sized Dogs
Personalized cat bowls for your dog/puppy. Serving so much styles in one dog dish / water & food feeding bowl! It's personalized with a dog's name and dog breed illustrations, your furry friend will feel the love with our customized feed bowls. Perfect Birthday/Mother's Day/Christmas/National Cat Day gifts for dog owners, your friend and your family.
Made of heavy-duty ceramic with a clean white glaze in matte finish. The custom engraving is permanent, not printed, so the text won't peel.
Thoughtful gift for your furry friend, this bowl features a perfect gift with a so cute pet breed icon, your pet's name with a beautiful paw print icon or fish bone icon on a white ceramic bowl with glorious designs. Our customized ceramic dog bowls are suitable for both water and food feeding and it is easy to clean.
To order select your size from the above choices. After selecting your size click Customize Now to add your personalization details to the bowl.
Thank you so much!
Last update on 2023-09-29 / As an Amazon Partner, I make a profit on qualifying purchases./ Images from Amazon Product Advertising API
4. For young girls, a pretty Japanese-style hair clip
The designer of the brand La Puce à l'oreille is inspired by Japan to imagine and make her jewelry from Normandy. Those fashion accessories are made with real Japanese paper. In order to shape the barrette, the paper is cut and then slipped into a round frame, fixed on a bronze finish hair clip. Each hair clip is unique. It stands out from the childish models, thus being perfectly suitable for teenagers. With its refined patterns, it appeals to coquettish ladies who like the creations of the land of the Rising Sun.
5. Ecological, a fresh bag for vegetables made of fabric
If it's useful, a gift is all the better for it! This one is definitely worth a look. Cleverly designed, the bag keeps salads, herbs and other vegetables fresh in the fridge. It keeps food fresh longer. Its playfully patterned fabric, with colorful radishes, adds a touch of fun to this simple design. Available in small or large sizes, it closes with a string. This pouch is for both environmentalists and gourmets.
6. For the little ones, a tender rabbit blanket
This baby gift is adorable. Shaped like a bunny, it is flat so that the baby can quickly take hold of it. It's a change from the bulk models, and it's appropriate for toddlers. With its gingham fabric belly and fleece back, this comforter is very soft! The fabric is guaranteed by the Oeko-Tex anti-pollution label, and it is machine washable. The plush, handmade, is called Lucien. His vocation is to cuddle with tenderness all the toddlers.
Made from vegetable fibers and bioplastic, this pencil cup is very elegant. Its harmonious shades, to be chosen from eight colors ranging from coconut to chocolate or satin black, allow it to match any decorating style. The chiseled material lends originality to this desk accessory. As a bonus, its smell and texture are comparable to wood. The products of this small company are made to order, by 3D printing, in an environmentally friendly way.
Saikvi Pen Holder Pencil Cup Pencil Organizer Cute Pencil Jars Desk supplies for Office/Colleage/Home (Green, 3-type)
Keep Home Office Tidy : A desk organizer accessory for the office or home, with this desk organization and storage, keeping your home and office desk neat and clean.
Space Saving: The desk drawer organizer is easy to keep pens, rules, scissors, books, files, paper clips, etc all in one place; also good for organizing makeups and small household items.
Durable Sturdy Stylish Material: The desk organizer is made of high quality ABS - durable, compact and smart-looking and will keep the stuff you need at hand while staying out of your way.
Use it at Home/School / OFFICE / Dorm as Business Card Holder, PEN HOLDER
Last update on 2023-09-29 / As an Amazon Partner, I make a profit on qualifying purchases./ Images from Amazon Product Advertising API
8. Useful for any party, a customizable lemonade maker
This folding instrument is fabulous. Like a Swiss Army knife, it contains a corkscrew, a bottle opener and a blade that allows you to open all different types of bottles in a few gestures. On the wooden handle, you can have the wording of your choice engraved, as well as an appropriate symbol. This is an opportunity to send a message of gratitude, love or friendship to your loved ones as a gift. This way, the recipient of this surprise will have a thought for you at every opportunity to toast!
9. A coaster specially designed for geeks
With this coaster, fans of video games, especially the PlayStation console, can match their decor to their passion. The object is made from a black electronic circuit board. The famous controller is drawn in the center of the coaster. The conductive paths are traced and then highlighted with a layer of fine gold. The combination of these two colors, black and gold, gives a classy look to this coaster. Young adults will appreciate the graphics as much as the utility of the item.
10. For design lovers, a wooden table lamp
This lamp is made by Nicolas' workshop, a cabinetmaker from the Occitanie region. The table lamp is made of oak slats whose material comes from sustainably managed forests. The pieces of wood, finely worked, are assembled in a circle around the bulb. The cutting and the shaping allow to project beautiful shadows in the space. The lighting of the room becomes intimate and warm. This original gift is reserved for admirers of woodworking and for decoration enthusiasts.
OuXean Vintage Table Lamp,Small Bedside Lamp with Square Wooden Base Desk Lamp, E26 60W Night Light Perfect for Bedroom Living Room Home Art Display Cafe Bar Studio Antique Decor(Without Bulb)
Small Wooden Design Lamp - Designed with 8cm length and 8cm height for small and exquisite appearance. This unique wooden pedestal lamp is 100% handmade and will make your home or office warm and welcoming.
POWER ON AND OFF - When the installation is complete, after connecting the power supply, press the ON button on the cable to get the light. The light turns off when you press the button again.
LAMP SPECIFICATION - Voltage: 110V | Suitable for E26 base | 25-60 watts are recommended (bulbs NOT included). Little lights illuminate your homes and your hearts.
RECOMMEND LIGHT BULBS - The light bulb is not included. The desk lamp can be used with incandescent lamps, energy-saving lamps, suitable LED lights, etc.
USED ​​IN VARIOUS PLACES - The concise and attractive table lamp makes it perfect not only for lighting but also for decoration in various occasions. These modern lights can be used as decoration and LED lighting for living room, bedroom, reading room, photo gallery, bar, etc.
Last update on 2023-09-29 / As an Amazon Partner, I make a profit on qualifying purchases./ Images from Amazon Product Advertising API

From designer jewelry to a Simpson sponge holder to an electronically designed coaster, here are ten amazing gift suggestions!